BES Express Define's BlackBerry's New Focus on The Small Medium Business Market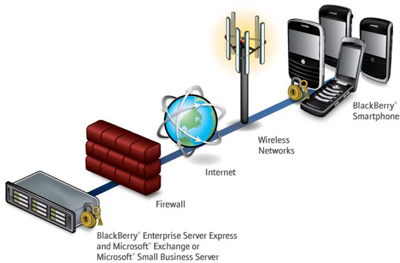 RIM announced on February 16, 2010 its latest new server product aimed at small medium business and at personal users of BlackBerry that want to also receive company email, calendar, directory and other personal or group productivity services on their personal BlackBerry. The BES Express software is offered at no charge and attracts zero cost CALs.
Designed to work with the minimum BlackBerry messaging plan (Internet email enabled), the BES Express software is typically loaded onto the company's email server – Microsoft Exchange 2010, 2007 and 2003 and Microsoft Windows Small Business Server 2008 and 2003 to provide users with secure, push-based, wireless access to email, calendar, contacts, notes and tasks, as well as other business applications and enterprise systems behind the firewall.  Note that after 75 users, RIM recommends a standalone server for the BES Express, to improve performance of both the BES Express and the email service. Of course, the BES requires a standalone server.
The BES Express supports many of the same features as the BES such as rich content emails, html emails, Microsoft Exchange, flag for followup, remote email search on the server, mail folder management, synchronized email treatment for read message or delete message, setting out-of-office reply, calendar, contact, tasks, notes synchronization, global address lookup, wireless notification of accept/decline appointments, forward calendar appointments, remote file access, document editing with Docs To Go, preview email, calendar attachments, download and save attachments to on-device or removable memory. The BES Express does not support Lotus Domino or Novell Groupwise and only enables 35 IT policies while BES supports over 450, but the extensive security features of the BES are also available in the BES Express.
The BES Express does not support the emerging portfolio of BlackBerry-enabled applications such as the Chalk Pushcast, Mobile Voice Solution, Microsoft Communicator or Lotus Sametime which are supported only with the BES (at this time – parentheses and italics are mine).
First to Enable Small Medium Business
RIM is the first mobile UC company to embark on a strategy of addressing the under-served SMB market with advanced messaging, collaboration, mission-critical and productivity capabilities. Mobile solutions companies have historically avoided the SMB space, leaving it to mobile carriers and feature phones. More profitable, large enterprise customers were needing advanced mobile service and communications applications and the mobile solution industry responded. But, the recent success of smartphones in the consumer segments shows that the SMB market is a natural space for BlackBerry, and its business-oriented capabilities to prevail.
The perennial challenge of addressing the SMB market is one of channel – getting the scale of sales to efficiently enable meaningful market share. This is usually the issue in business models where the firm makes a product and SMB buys it. However, in the BlackBerry model, customers go to their local mobile operator and specify a BlackBerry device. They buy a BlackBerry email service, so RIM earns a product sale and service annuity. By enabling the exclusive BlackBerry service this way, RIM is able to differentiate its service and devices for BUSINESS in what is rapidly becoming a crowded market. The BES Express is therefore the key and a powerful mechanism that anchors the value inherent in BlackBerry and server solutions for the SMB.
Attaching the BES Express to Microsoft's small business server is a worthwhile starting point. I hope future releases to enable integration with the Lotus Foundation server, the Apple OS X server and maybe even an open source distribution or two to enable BlackBerry functionality through other platforms than strictly Microsoft. Growing addressable market ought to be a big priority. Once sufficient market penetration is achieved, then the other advanced capabilities such as the Mobile Voice Solution can be sold into the installed base.
So what may in fact start as a market defensive measure – to defend its position as the leader in smartphones for business – is likely to yield a great installed base of customers to which RIM can continue to stimulate demand for BlackBerries and advanced, premium applications such as the MVS or Chalk.
This post has already been read 0 times!
Edit