Beyond UC: How Mobile UC Changes Business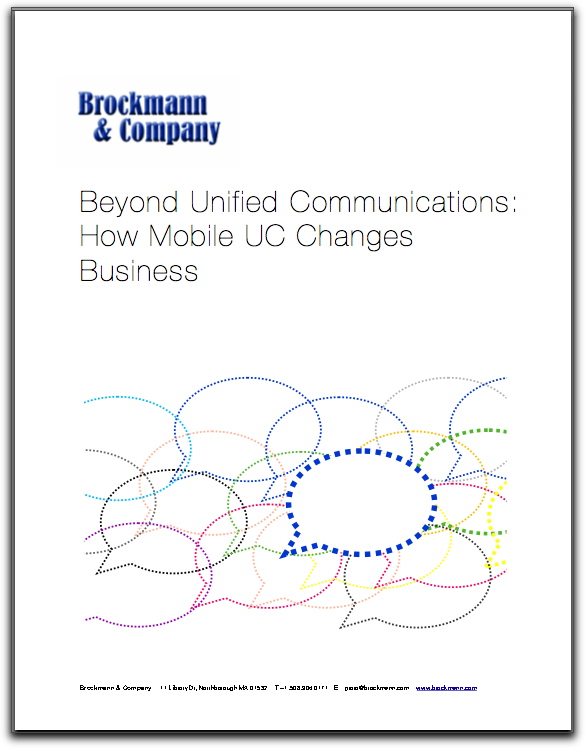 Mobile communications has over the past four decades worked to increase employee reachability. However, this has traditionally been achieved at great economic expense and with a loss of convenience for customers, coworkers and partners who have to record different numbers or worse, make the mistake of calling the wrong phone and leaving a message there where it languishes for longer than it should have.
The Mobile Panel, representing some 349 organizations of all sizes from around the world addresses the framework for required mobile UC functionality, the highest priority system-wide features, device support plans, practices and organization that define the industry best practices for mobile business. The Top Performers, representing the most mobile 15.9% of the universe, recorded the best practices, strongest organizational support for mobility and the widest array of mobile applications. They've also recorded the highest levels of business performance as measured by employee satisfaction, customer satisfaction, revenues per employee and at least three other operational attributes.
Mobile UC Top Performers have pushed reachability to include accountability and convenience. These two extra features assure the user that the organization is taking into account the consumption of services, the personal habits of usage and enabling extremely convenient communications for coworkers and customers. Coworkers don't really need to care whether the decision maker they need to reach is at their desk or at the wheel of their car. They just need to reach them, conveniently.
Similarly, customers don't really care where their sales representative is, just that they want to make the time to speak with them now.
Enabling convenience and accountability with reachability is the innovation that mobile UC offers the mobile business and the mobile business person. This report shows what the benefits are to mobile UC and how business is accelerated and simplified as a result.
This post has already been read 0 times!
Edit