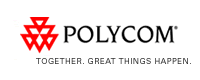 Polycom also announced their plan for integrating the latest rev of the famous boomerang conference (IP 7000) phone with the HDX series. The HDX software release 2.5 is available in December and is an update across the HDX line.
Besides eliminating the need for the power brick for the standalone IP 7000 that doesn't connect using PoE, since PoE is delivered by the HDX codec to the IP 7000, the interaction of the IP 7000 and the HDX unit are at times as independent peers, slaves and masters and as an incremental UI for session control panel.
Practically, that enables integration that means users can:
Pick up, hang up, and dial video calls by inputting the address directly into phone
Add additional microphone pickups for video calls since both the IP 7000 and the microphone pod of the HDX series can be connected to the codec
Use the IP 7000 for audio calls without interacting with the HDX
Initiate content sharing via conference phone soft keys
The incremental software to enable the IP 7000 integration is priced at $1,339 MSRP.
This integration sets the stage for the use of conference room phones to control attached video room gear. Cisco's TelePresence product requires integration with the Cisco Unified Communications IP PBX so that users can push a button on the phone to engage the session initiation. It would be interesting to compare the call control functions and ease of integration for each IP PBX conference phone, and to assess the vendor independence of each control mechanism.
This post has already been read 0 times!
Edit