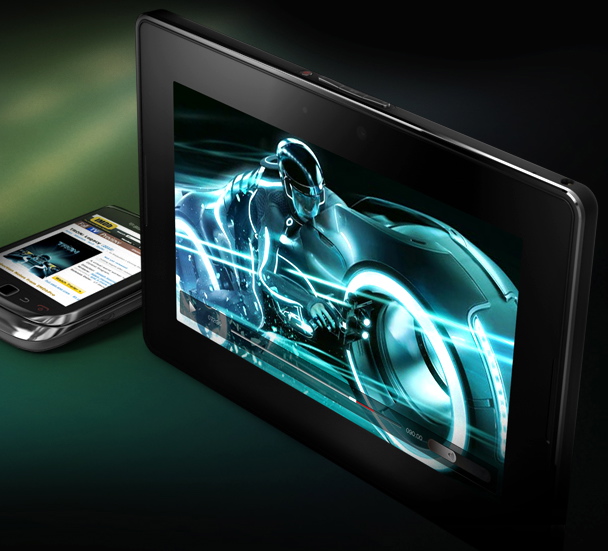 The BlackBerry PlayBook is a business-oriented, BlackBerry-complement WiFi- and BlueTooth-capable tablet announced Monday, September 27, 2010. PlayBook is expected to be available in 1Q 2011.
Sporting a dual-core 1GHz processor (iPad has only a 1GHz processor), two video cameras (my earlier prediction said there'd be one) and virtual keyboards, the newest RIM device runs on the recently acquired QNX operating system and not the BlackBerry 6.
In terms of my five predictions, I win on two, but miss on the other three.
Key features include a 7″ LCD display with micro-USB interface for syncing and peripherals, video conferencing seems to be fully implemented as HD-style H.264 quality (1080p) with on-board codec for multimedia processing, support for Adobe Flash (of course, BlackBerry has to be different) and HTML 5.
A Tethered PlayBook
The tablet needs to be paired with a BlackBerry (running v5 or higher) through a secure BlueTooth connection to enable email, calendar, tasks, documents, security management and the push technology. At first, I wondered why this was the case, then I realized that the device is not likely to be sold through mobile operators since it won't require another BlackBerry account or sell another carrier service. RIM didn't want to have to disrupt its existing business model of shared monthly revenue with the service provider to provide mobile email to a new device, and didn't want to complicate the typical email flow of BlackBerry email from the enterprise email server to BES-Center-carrier-BlackBerry by associating more than one device with an account.
A WiFi-only device assures a little more breathing room for the decisions both RIM and carriers have to make about 3G service support, availability and value added capabilities like BlackBerry email and push data that are so important to enterprise users.
Overall – A Worthy Competitor
Overall, this device is a worthy competitor to the iPad, sporting better features and promising stronger enterprise-class capabilities to be enabled with software. For example, I expect that the PlayBook will fit seamlessly into the BlackBerry Enterprise Server security architecture. Although I haven't seen the details, I expect it will enable support for remote wipe, device location and policy enforcement. Three features that major BlackBerry-only enterprises insist on from their mobile device vendors.
Many will point out the weak app library compared to the iPad/iPhone app store. Bullocks. This is nonsense. Years ago many DOS fanboys spoke of the many expansion slots and millions of available applications for the x86 PCs. This is meaningless tripe now as it was back then. Most of those expansion slots were never, ever filled with anything and most of those applications were trash. People use only a few things on their general purpose computers, and probably use even fewer on their special purpose mobile tablets. It's the basics silly. Browsing. Email. Word processing. Instant messaging. Voice communications. Presentation making or viewing. Maybe a solitaire or two, but that's about all you need to kickstart the program. A decent developer environment will encourage enterprises to customize the device so they can use the PlayBook in their warehouses, hospital floors, examination rooms, trading floors, executive suites and otherwise replace the clipboard or PC station.
Does 4Q Availability Really Matter?
Announcing the device now, a full quarter before availability misses the critical Christmas sales period which as disappointing as it sounds should have a few positive effects for BlackBerry in the 4th quarter. It will sell more BlackBerry's in anticipation of the tablet's arrival in Q1 and it will slow down the rush of BlackBerry customers for the iPad. Despite the fact that Dell and Samsung will have their Android tablets out before the availability of the PlayBook, RIM has carefully positioned the PlayBook to appeal to their installed base of loyal/addicted customers which may inoculate many of them from the competitor's appeal.
Dell and Samsung will be slogging it out with the iPad for the rest of the market since those devices have no complementary customer base to focus on.
In that sense, it is disappointing that the PlayBook won't be ready before Christmas, but disappointment now is definitely better than customer returns in January.