CounterPath Solution Makes UC Mobile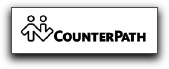 For many years, I have posited that mobility for enterprise application must involve more than providing a separate cell phone number on the executives' business card. CounterPath is known for its market-leading OEM SIP client (originally called xten, now EyeBeam) and more recently as the 'rollup' company of several startups including NewHeights, BridgePort and FirstHand Technologies. CounterPath's enterprise ambitions is to project enterprise communciations services through the mobile domain to address the business needs of mobile employees.
BridgePort provided the core technology in the USB-dongle-and-carrier-server-based solution called the Network Gateway Convergence Solution that binds the users' mobile network credentials onto the USB allowing the user to use laptop (with USB) for VoIP calls when out of range, or roaming while in stationary mode. Calls to the mobile number can be routed to the client software on the USB dongle. User gets one bill and one accounting of their calls.
John Craig is the product manager of the Enterprise Mobility Gateway, which was originally a FirstHand technology. The EMG is an adjunct application (software is the CounterPath offering, although it is qualified on specific OEM-partner hardware and OS (ususally Linux-derivative)) to the IP PBX for the purposes of delivering Unified Communications services to mobile employees or employees with mobile phones/devices.
Note: CounterPath website reports that Gartner predicts that 80% of large enterprises will have purchased their last desktop phones in 2010, presumably relying in future on mobile phones and PC clients, which of course, are the two sweetspots of CounterPath offerings.
Key services offered include:
Enterprise telephony features – DND, Hold, Forward, Transfer, Call Waiting, Redial
Enterprise-complementary Instant Messaging. Integrations with SIP-based SameTime and Office Communicator are available.
Integration with desktop phones such that notification of incoming calls appear on mobile phones and can be dispatched to messaging or other coworkers for handling.
Group calling. This is my favorite feature in that a mobile user can initiate an ad hoc conference call with predetermined colleagues. The message to invited participants can explain the purpose of the call so participants can get a clear reason to join now.
Enterprise Dialing plans supported – 3, 4, 5-digit extension dialing
Enterprise Caller ID display – outbound calls initiated by the IP PBX show the corporate ID and number and not the mobile users' name and number.
Call logs and histories are very useful in highly regulated industries such as securities, healthcare, government and politics.
Directory services.
Handoff of calls to desktop phones.
Recent developments in the life of the offering have included new GUI for the BlackBerry and Windows smartphone clients, support for the iPhone, basic services for single mode mobile phones such as Message Waiting Indicator, Caller ID, Automatic Answer, Call Logs, IM, handoffs, hold and call. The company has also released its mid-call intercept using DTMF with both visual and audio progression prompts.
One of the annoying issues with other gateway implementations is that the user would invoke the mid-call intercept process, put the phone to their ear to hear the audio prompt, move the phone into visual range to see the key to depress, press the key, put the phone to their ear to hear the next audio prompt, move…. and so on. All this up and down motion is such an annoying process. Being able to instruct the mid-call intercept process by key stroke and visual response is hugely useful.
From an administrator perspective, the new implementation makes life considerable easier enabling zero-touch provisioning, and over-the-air download through a URL. This accelerates large scale implementation.
And, for dual-mode cellular and Wi-Fi or Wi-Fi only devices, access to the more-famous VoIP client portfolio helps make the case for a stable voice over WiFi client for Nokia E-series devices, developed and supported by CounterPath.
In contrast, Microsoft's efforts over the past three or four years at tightly controlling the VoIP client features have made their offering less attractive to software developers and enterprise users that wanted tight control of the VoIP client too for their own application suites and value sets. By cowtowing to the mobile operators who detest mobile VoIP clients that they don't control, Microsoft have lost their innovative edge and created a performance laggard. CounterPath has to use a native client client API, to enable an integration that will be at a sub-par user experience, as compared to the CounterPath client on Nokia E-series.
Competitively, CounterPath products compete with DiVitas , Agito and OnRelay but given its focus on the OEM channel (Nortel and NEC), it is likely to dominate these segments because of the tight integration, support and sales through existing Nortel and NEC channels. CounterPath leaves the Avaya, Cisco and other customer segments alone which is where these other players predominantly fight it out.
The latest release of the EMG is generally available now for Nortel CS 1000 and will soon be available for NEC as well.
This post has already been read 0 times!
Edit