Flexibility Comes to Polycom Telepresence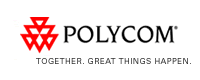 Polycom announced November 17, 2009 a highly adaptive telepresence solution – the Polycom Architected Telepresence Experience (ATX) 300. The product can be customized by specially qualified AV integrators to address industry-specific or an organization's precise needs for collaboration or room geometries.
The product is a kit featuring the core technology components – codecs, cameras, microphones, speakers, operating and control software – that is combined with planning, design and implementation services. Unlike the RPX or TPX suite, the furniture, monitors, wall coverings and placement specifications can be tuned by the integrator.
This announcement removes one of the major strengths of telepresence systems – the highly engineered and standardized experience – and replaces it with a set of rules where qualified integrators can customize the platform.
As I think about it, this move is totally expected, since as the growth of any new technology shifts gears, innovators must adjust their offerings to address more applications of the product than originally envisioned. The ATX is exactly such a response to market demand.
This post has already been read 0 times!
Edit