Fring Does Video on Mobile Devices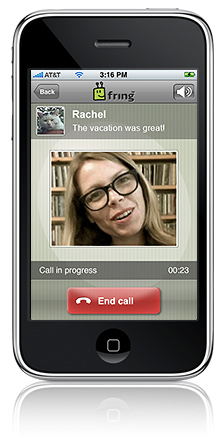 Fring, the product-service of Fringland, the mobile VoIP client company announced today support for mobile video over Wi-Fi or 3G on Apple iPhone and Apple iPod Touch and on selected Nokia S60 devices.
The video feature is embedded within the fring application that enables free voice calls from the iPhone and iPod Touch to other fring users, Skype and GTalk buddies as well as friends on regular phone lines via Skype-Out and hundreds of popular SIP services. fring users can live chat, update profiles, share files and talk with friends from several Instant Messaging services like MSN, AIM, GoogleTalk and Skype, in addition to interacting with popular online social networks like Twitter, all from one integrated fring contact list.
So, iPhone users can only receive video feeds from other clients, because the camera window is on the opposite side as the view screen. [span class=inset-right]Maybe some bright entrepreneur will develop a mirror attachment to enable both receiving and delivering video streams.[/span] Nokia users can do both since the camera is on the same side as the view screen (or it might actually rotate through the phone to capture whatever's on one or another side of the phone).
Fring is supported on Android, Windows Mobile, J2ME (BlackBerry) and Linux devices. Users should expect video support for a larger and larger portfolio of devices. Although the processor on mobile devices tend to be relatively under-powered, the small screen size and low camera performance are probably appropriately sized to deliver an adequate experience in a person-person setting, but certainly not in a group-person or group-group scenario.
This post has already been read 0 times!
Edit