Keynote Systems Tracks The Internet Experience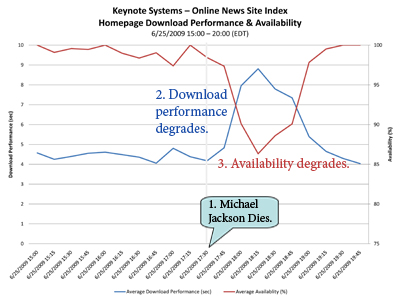 The King of Pop died yesterday and not only is his genius and talent all over the music industry, but his passing was reflected by a momentary degrading of the Internet as fans and music afficianados around the world looked to major news sites for facts, songs and videos. The graph shows how performance was cut in half (4 seconds to 9 seconds) and average availability of leading news sites dropped some 15%. Major sites included in this News Site Index included ABC, AOL, Bloomberg, CBS, CNBC, CNN, CNN Money, Fox Business, Google Finance, Google News, LA Times, MSN Money, MSNBC, MarketWatch, NBC, NPR, NY Times, SF Chronicle, USA Today, Wall Street Journal, Washington Post, Yahoo Finance, and Yahoo News.
Keynote Systems monitors websites, VoIP service providers and offers solutions for effective development, testing and deployment of mobile applications, where their expertise in network application performance monitoring can be effectively leveraged.
This post has already been read 0 times!
Edit