LifeSize 200 Sets New Industry Benchmark for Price-Performance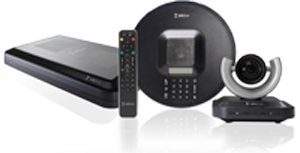 [[1080p]]30. [[720p]]60. 2x[[720p]]30.
As promised earlier, this week has seen many new product announcements. But, I would argue that the new LifeSize 200 series camera and codec systems are particularly impressive. They incorporate extraordinary advances in image encoding, compression and decoding. The camera boasts the company's excellent motorized Pan-Tilt-Zoom, a new 5 MegaPixel image sensor and HDMI I/O interface enabling sharper images, higher resolutions and longer camera cable runs.
New silicon design powers the world's first embedded Full HD MCU with Transcoding and virtual multiway technologies. The silicon design enables 2 x increase in video processing capacity, greater efficiency and over 2 x increase in encode/decode performance. The codec is the first to support dual 720p30 streams where one is for the computer projection and the other for the visual communications. This'll be particularly attractive in software development companies (think Activision) and healthcare applications where the second interface may be an endoscopic device or a second camera.
Defying the typical quality-cost tradeoffs, this new architecture can deliver high definition at surprising low speeds. Consider 720p30 at 768 kbps, 720p60 at 1.1 Mbps and 1080p30 at 1.7 Mbps. That's about 1/2 the minimum bandwidth requirements recommended by at least one other manufacturer.
The new mechanicals makes the codec unit slightly smaller and cooler than the earlier generation and replaces the Firewire interface for camera networking with HDMI. [[FireWire]] aka IEEE 1394 was introduced by Apple as a high speed peripheral serial cable in the late 1990s, and today is being replaced with Gbps Ethernet in their latest product revs.
UC-wise, LifeSize has developed and tested interoperability with leading SIP-based systems from Cisco, Microsoft OCS, Siemens and ShoreTel.
The new 200 series expands the current portfolio from four to seven configurations:
Express, Team MP, Team 200, Room, Room 200, Conference, Conference 200 enabling new intermediate and incredibly low price points starting at $4,999. The Conference 200 package MSRP is under $50,000. Spectacular.
LifeSize also announced updates to the infrastructure portfolio including the Multipoint server's support for recording, streaming of HD sessions to remote PCs. A future release will incorporate HD quality PC image capture.
This post has already been read 0 times!
Edit