LifeSize Sets New Benchmark in HD Price/Performance

The Austin TX company pioneering high definition video conferencing in 2003 has announced a new camera model that changes the economics of HD video conferencing.
LifeSize's new camera, called Focus, is a fixed mount, integrated HD camera and 2-microphone array unit. It is detachable from the base, and can be fit into any 1/4" camera mount system (tripod, wall mount, ceiling mount). The camera support 1280 x 720 resolution, 30 frames per second, delivers a 16 x 9 aspect ratio, includes a wide-angle lens and 70 degree field of view.
My favorite innovation with this camera is the elimination of the need for a telephone, a microphone or a microphone pod.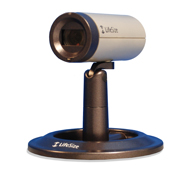 The camera has an integrated microphone array with two omni-directional microphones with beam forming technology so the software can provide directional alignment that maps with the image. Users that are speaking on one side of the camera have the sound at the remote end played back on that side of the monitor.
This is a very compelling package option for Express customers and prospective customers. Since personal HD users, for example, don't need to adjust their cameras often, or at all, this shaves $1000 off (17%) the MSRP of Express as a personal HD system. Other applications just for the camera might include security, as an HD document camera when mounted in a document frame, in a mobile or portable video unit or for use at home where periodic evening sessions need to occur. The Express supports multiple camera inputs, requiring users to manually select which camera to use, and in some environments, an array of fixed location cameras could be a viable option.
Of course, document cameras aren't required that often since the widespread adoption of H.239 document sharing over HD video sessions.
Clearly the company expects to make this camera/mic array unit a standard option for the Express, but will sell them through its global dealer network as a separately orderable item.
This post has already been read 0 times!
Edit