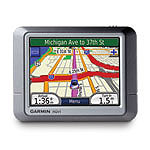 I have used Garmin GPS in the past year as I navigated my way around LA, as part of my rental agreement. The congestion reporting feature was a problem. It frequently advised me to go into the collector lane and then back on the highway, without explanation, so I often thought I was getting off the highway soon, only to be told to move back onto the highway. Arghhhh.
Now, I own one.
As previously reported in earlier blog posts, I purchased a Garmin Nuvi 250 from BestBuy.com in November 2008. This was a gift for my wife in anticipation of our family trip to the interior of British Columbia where we only had addresses for my aunts, a cousin and my sister. We would need to find the hotel, gas stations and other points of interest along the way too.
The package arrived early in December and we opened it with anticipation. The first user was our youngest son who would use it to navigate to a church in central Conneticut as a proxy for my wife and I who were supposed to attend a charity concert with our youngest daughter, but instead was prempted for a Christmas party. We popped in the address and away Paul went.
Our plan was to fly to Seattle on Christmas Day and stay overnight so that we could begin our drive to Lumby BC early the next morning. That's when I realized that the most frequent message delivered and probably the most useful feature is the 'recalculating' feature. You miss a turn and it goes 'RECALCULATING…' You miss an exit and it goes 'RECALCULATING…' You take an ad hoc exit to get gas or coffee, and it goes 'RECALCULATING…'
Some comments:
When the Nuvi estimates distance between where you are and where you want to go, it seemed to calculate only the straight-as-the-crow-flies distance and not the length of the calculated surface travel. In Washington state and British Columbia, straight-line distance will always be a big underestimate since the north-south valley systems of the mountains in western North America make going east and west a zig-zagging experience. For example, a was reportedly 200 mile trip, was actually 330 miles.
The logic of the navigation was easy to work with. Large buttons, simple choices worked for the most part. However, some addresses were not accurately reported. My sister's home which had been built the past year was not found by the Nuvi, but we were standing, eating and sleeping right there. The Silver Star Resort location was on the correct road, but was actually several miles further up the road than indicated on the navigation.
Some suggestions:
Since the device only says a few words – turn left, turn right, arriving at destination and the in-famous 'recalculating' – the consumer ought to be able to choose the gender, accent and language of the appliance. They should also be allowed to upload their own audio tracks to the appliance. This would make it more fun to own and reduce the stress of driving around, and being told to turn left.
Make it easy to upload travel completed to Google Earth, for example. This way, the user could create a complete travel-blog of their trip.
Users should also be able to upload recorded notes made enroute, associating the recorded comments with the specific coordinates in the Nuvi. These should be similarly uploadable into an online travel-blog.
Integrating the Nuvi with digital camera function would help these services a great deal.
This post has already been read 0 times!
Edit