MegaMeeting Sets High Bar in Desktop Video Collaboration

Started five years ago by Scott Goldman and Dan Richmond, this 20-person operation has built an impressive capability from a tiny office complex in Sherman Oaks CA. Just down the hall from the William Holden Wildlife Foundation, MegaMeeting operates a worldwide direct sales, channel sales and engineering (development and support) operation.
I met with Jason Richmond, the VP Sales who explained that the company has outgrown their current facility and will be moving down the road to a larger, contiguous office with more space for the sales team to continue their 200% growth over the year before. Despite the cramped quarters, the core technology of the solution struck me as being both stable and feature-rich.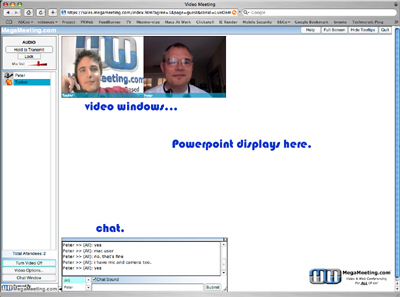 Megameeting is unique in that the user interface is implemented completely within Adobe Flash, a readily available component of most browser installations. Significantly, this architecture makes it quite independent of the operating system. So, unlike Hearme or Citrix GoToMeeting, Megameeting can support both presenters and users on Windows, Macintosh and Linux OS. The layout of IM, presentation space, participant status and desktop video conferencing are shown in this Safari browser capture.
The key differentiation of the service is the integration of desktop video conferencing, in-session instant messaging, presentation, screen sharing and audio conferencing through VoIP. Megameeting supports dialin telephone numbers for mobile or users with poor quality VoIP connections and session recording too. This enables international video-based webinar participation without expensive international dialing.
This post has already been read 0 times!
Edit