NCP Delivers Consistent Remote Access Client

When I think of German software companies, I think of SAP, but not many more.
Well, last week, a second German software company gave me a solid reason to consider them in that same breath. It's not the size of the enterprise, but the dedication to excellence in one specialty domain that adds NCP to that short list of German software companies (that I know).
Founded in 1986 and today employing 44 engineers and sales professionals, the company offers remote access clients in support of IPSec and or SSL VPN, and a centralized management system that adds tremendous scalability to the enforcement of corporate policies, assuring compliance, up-to-date software and appropriate audit trails that large enterprises require.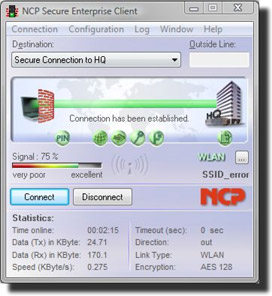 The client as shown on the left includes a personal firewall, a dialer, an optional [[802.1X]] authentication or a 2-factor authentication service such as Entrust IdentityGuard, RSA SecureID and PhoneFactor. The client also presents extensive statistics on session performance.
The central administration application can also interface into leading [[public key infrastructure]] products such as RSA and Entrust and enable the convenient integration of the remote access client with very strong encryption.
NCP offers clients for Windows, Windows Vista, Windows Mobile, Linux and Symbian which are sold typically through remote access service providers and VPN application vendors such as T-Mobile Online, WatchGuard, Lancom, Secunet, FEC, Astaro, Arkoon and Nuvaja.
Mobile Implementation
The mobility dimensions of the offering are particularly important for organizations that don't appreciate the transnational dimensions of services like the BlackBerry where all user traffic (email and mobile application traffic) is securely passed from the BlackBerry Enterprise Server inside the intranet to the BlackBerry data center (in North America the data center is in Waterloo Canada, Plano TX and in Europe it's in London UK) and directly to the appropriate mobile operator and the specific mobile device.
This transnational traffic flow offends the security policies of several government-security-oriented agencies that require solutions that deliver secure communications directly from the mobile device to the intranet of the enterprise. This is the model inherent in the NCP mobile solution, the Microsoft Mobile implementation, the Motorola Good Technologies implementation and the Nokia Intellisync implementation. In this way, NCP is able to offer a more comprehensive solution where mobile and nomadic laptop users are securely supported by consistently strong privacy and authentication services and a common administration system that enforces enterprise-wide policies for both device classes.
And if you're a BlackBerry user and transnational transport bothers you, NCP could build a client with Java, but with reduced features and performance. BlackBerry doesn't open up their core transport and security functions to third party developers, allowing apps to be built in Java only. A remote access client needs to engage with OS-level features that aren't published for 3rd party developers within the BlackBerry OS. Developers have to do their thing in Java, which limits the capabilities of the client.
Support for the iPhone depends on user demand, but it wouldn't be hard to develop since the Mac OS and the iPhone OS are both based on Linux.
The consistent part of the NCP approach is to deliver the same user experience, regardless of the device. They can also deliver the same administration control for both laptop, remote VPN gateways (branch offices for example) and select mobile devices.
This post has already been read 0 times!
Edit