Nortel (now Avaya) has been an innovator in integrating enterprise IP PBX services and features onto mobile devices for many years, experimenting with pico-cells in the early 1990s, implementing CT2 campus mobile phones (Companion) and infrastructures, and in recent years as one of the first to support dual mode mobile UC services and BlackBerry-specific call management, presence, instant messaging and directory access features for mobile users.
Today, the company has organized its enterprise-specific mobile UC portfolio around three classes of mobile users.
The road warrior and executive need rich functionality on preferred high performance, premium smartphones. For this class of user, the Mobile Communications Client 3100 has been steadily improved since first introduced in 2005 and today boasts unique features for mid-call control, call accounting and enterprise handling of mobile calls.
The feature phone-equipped ad hoc mobile user is supported using the CS 1000 Mobile Extension to leverage the same policy, dial plan and call control features of the CS 1000 without the need for client software. ME-supported users use DTMF tones to activate features for call transfer, call park and conferencing. Attendant features such as camp-on, busy lamp field and barge-in are available as are call management features for forwarding and do not disturb.
The campus nomad / mobile worker typically performs their work from any location on campus, but needs to access real-time communications services, perhaps to order parts, retrieve next transaction details or otherwise needs to be accessible to real-time communications. For them, Nortel has a portfolio of hardened WiFi phones and DECT phones to address most campus customer needs.
The CS 1000 Mobile Extension
Unlike simultaneous ring, the CS 1000 ME feature establishes the mobile telephone of the assigned user as a logical extension of the CS 1000. Once activated, any incoming calls are routed to ring both the desk phone and mobile phone. Mobile phone users are presented with the incoming caller's CLID.
There is a seamless handoff between the desk phone and the mobile phone simply by selecting the indicated line appearance. Presence-aware users connected on Microsoft OCS are shown that the ME-supported user is on the phone, even if it's a mobile call. Unanswered calls generate enterprise voicemail. Using a DISA-like feature, North American feature phone mobile users dial a number, authenticate themselves and are presented with enterprise dial-tone for outbound calls that act and look like enterprise calls including policy restrictions limiting access to international dialing, using the enterprise WAN for long distance and generating the associated CDR. In Europe, mobile operators support source-based routing which enables enterprise dialing plans, restrictions, policies and features without the need for dialing into the IP PBX.
The MCC 3100 – MCG 3100
The Mobile Communications Gateway 3100 is an adjunct server associated with the CS 1000 that coordinates services and mobile-specific features between the mobile user and the IP PBX. The gateway incorporates the OTA portal and serves the web server element of the WebUI product discussed below.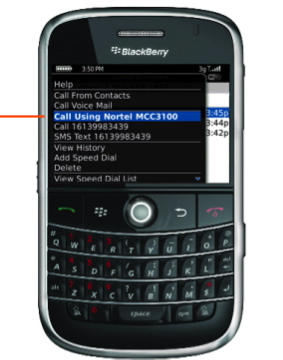 Designed and optimized for each of the Windows Mobile, Symbian and BlackBerry operating systems, the MCC 3100 is tightly integrated into the specific OS' mobile experience. The client is downloaded from the Over-The-Air portal integrated with the mobility gateway server software that is pre-integrated with the CS 1000. This approach to download enables administrators a method to pre-configure the client software with addressing, policy and security practices and is simple for users to activate the process using the mobile device's onboard browser.
Key features supported include a single number reachability and the option to dynamically or statically force the routing of incoming calls to any phone. This can be useful when batteries need recharging, when audio quality may be suspect or when privacy needs to be assured.
Message Waiting Indication of the enterprise voicemail is supported as are enterprise directory search, call from directory and the enterprise dial plan including mid-call features and attendant services such as camp-on, barge-in and busy lamp. MCC 3100 users can instant message with other MCC 3100 users and can report their presence to OCS-subscribing users.
WebUI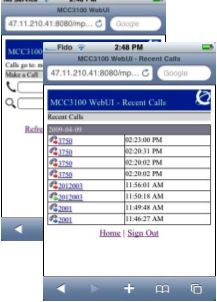 In January 2009, Nortel introduced the WebUI feature of the MCG server.
Using a web browser on the mobile device, or on a PC a user can authenticate themselves and interact with their telephony service to control and deliver core telephony features in a style they need. Users can enter a telephone number to dial and have the CS 1000 call them first, which on answering then calls the other party. Call logs, mid-call features and attendant features are then supported as a Mobile Extension-supported phone.
Although not as elegant as having the MCC 3100 dial option imbedded in the right user menu on the BlackBerry, the WebUI feature does allow immediate support to new devices such as the iPhone, Palm Pre and Android, where the web browser is easily accessible and high performance, buying time for client developers to deliver.
Going forward, Nortel plans to expand this offer to include other enterprise telephony platforms including the large campus implementation the CS 2100, which will be generally available in August 2009. Other platforms such as the SCS 500 and BCM will be productized as customer demand warrants. Also, Nortel has high expectations for its mobile UC portfolio and expects the pace of innovation to increase even further, advancing the development schedule to quarterly update frequencies which should keep their support customers abreast of the latest communications features, latest device support and latest mobile UC capabilities.
This post has already been read 0 times!
Edit