Personal Video Auto Attendant Manages Meeting Handoffs

Desktop video conferencing applications for enterprise users are really a different animal than for consumers.
Consumer products deploy simple clients that engage with hosted services to connect users together. Enterprise products require integration with enterprise infrastructures and given the security issues of enterprises almost always require some type of security fix so that desktop users inside and outside the firm can connect and have safe communications.
RADVISION, the MCU manufacturer inside leading solutions from Cisco and LifeSize (and others), has also developed a desktop solution for enterprise users. In an briefing with Bob Romano, the VP of Marketing, we discussed the fundamentals of the offering and the recent Scopia V5.5 software release for:
MCU operation enabling continuous presence in high definition, mixing of standard definition, desktop and high definition in the same session, affordable high definition bridging
Desktop operation to enable moderated meetings, waiting room (before session begins) and chat
iView management software for easy user control of room capabilities and enablement of high availability configurations of system components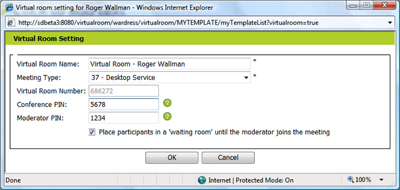 With Scopia 5.5 users can connect to a videoconference with virtually any device – HD enabled roomsystems, Desktop PCs, 3G videophones or a regular phone – without requiring everyone to degrade to the lowest common capability. They have also made moderator control enhancements to their SCOPIA Desktop which allows remote participants to join videoconferences from virtually any PC and an Internet connection.  But the really interesting enhancement is the Personal Virtual Room, which is a personal video auto attendant of sorts. Video users are placed in a waiting room until the moderator is present and the session can begin. Moderators can get a rollcall of who is in the waiting room.
This feature also provides a mechanism to authenticate session participants and works with standard definition room systems, desktop systems and high definition room systems. Clearly it is not enough to just enable visual connectivity. It is important to enable complete and where practical automatic participation.
Where this gets really useful is in circumstances when meetings overflow (don't they always do this?) the allotted time. In the sharing of physical facilities, the incoming leader knocks on the door and reminds the existing meeting that they're over the time. Users' sense of fairness kicks in and the meeting either moves to another location (one or the other) or it ends so the scheduled users can engage.
In video this 'handoff' of network and conferencing resources are not always so smooth given the resource constraint on meeting rooms. Automatic waiting rooms like this sure beat interrupting existing meetings and could be coordinated with other, polite meeting reminders such as a message beamed across the bottom of the display that "the next meeting is waiting to proceed. Please wrap up or schedule a follow-up session. Click here to schedule…"
This post has already been read 0 times!
Edit