Perspectives on Conferencing for Sales & Marketing Professionals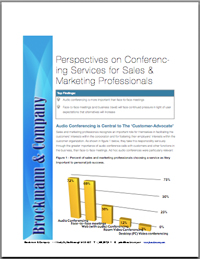 Audio conferencing is a very important tool for most sales and marketing professionals. It is more important than face-to-face meetings. Yet, despite the importance of the service, users are not very satisfied with the conferencing experience. Audio conferencing is compared with other services and the users' expectations to grow the frequency of the conference class.
In these troubling times for the business traveler – delayed flights, canceled flights, exorbitant fuel costs, air travel safety queues – the audio conference is not an effective alternative for face-to-face, it is a complement. Users need a service capable of being a substitute for travel, with higher quality, lower cost and higher convenience than travel.
Interestingly, the most popular recommendation for service improvement is to increase service convenience, which would make video conferencing more practical as a solution for customer-sales person interaction.
This post has already been read 0 times!
Edit