Polycom Introduces New 1080 Camera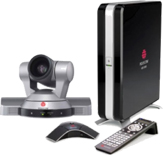 The new EagleEye 1080 camera delivers 1080p at 30 frames per second or 720p at 60 frames per second. Debuting at the Polycom User Group meeting, the new HDX 8006 codec bundle ships with the new camera, an infrared remote and the HDX microphone for a premium-priced $17,499. The HDX 8006 begins shipping in December 2008.
The People+Content feature costs an additional $2,000 and supports both H.239 presentation sharing and the weatherman feature, and for another $2,600 the 'XLP' package includes an onboard 4-way bridging function.
Polycom pointed out that unless all the parties in a video communications are using 1080p technology, the experience will be less than that.
At the same time, me and others have been postulating that the discussion isn't about the monitor resolution any more, but instead about the frames per second. It is my hypothesis that 60 fps always appears better than 30 fps at virtually any reasonable resolution. At 720p and 60 fps, Polycom reports that the codec needs about half the bandwidth – 2 Mbps. Both the EagleEye (legacy) and EagleEye 1080 cameras support 720p at 60 fps, which is the broadcast standard for the European Broadcasting Union and the production standard for both FOX and ABC TV networks.
This post has already been read 0 times!
Edit