Polycom Network Management Appliance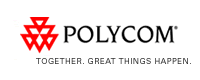 While July is a pretty sleepy time for a lot of cyclical or school-season-based industries, it's certainly been an interesting month in terms of visual communications. On top of outstanding 2Q08 results, Polycom announced a couple of new products.
The Polycom Converged Management Application (CMA) is an appliance form factor that replaces the SE200 which is used in several hundred customers around the world.

The CMA is an [[H.323 Gatekeeper]] running on a Windows 2003 server offering several key features:
XML-based room/user profiling
License management services
Centralized operational diagnostics on RTP sessions
Realtime state monitoring of conferences
Integration with Outlook or Lotus scheduling services
Web interface to scheduling features
Free/Busy status publishing using XMPP
Polycom Global Address Book and Active Directory support
The CMA is designed for enterprise video managers where it can simplify their lives with automated scheduling, enterprise-wide operational state, session detail records such as time, systems involved, bridge port IDs, jitter, delay, packet loss, remote software updating, and otherwise manage their Polycom devices. The appliance is a Dell 1950 PowerEdge server packaged with Polycom software with MSRP at $100/seat.
A complement to the CMA appliance is the CMA Desktop. This PC client offers Presence reporting, instant messaging, H.329 screen sharing and HD video reception in the client. Like other PC clients, it doesn't do HD recording (yet).
CMA does not interoperate or integrate with Microsoft or Lotus systems (yet). However, SIP support and federation is on the roadmap.
This post has already been read 0 times!
Edit