Polycom Weatherman Feature wins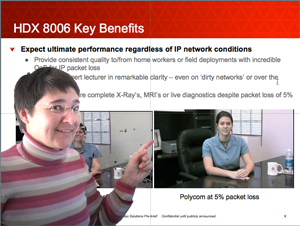 Today, Brockmann & Company is pleased to announce that the Polycom Weatherman feature wins the Brockmann & Company 2008 Cool Feature Award. The feature is available as a $2,000 software upgrade which includes H.239 screen sharing on HDX line of desktop, mobile and room systems. The feature is typically used in educational applications where a remote presenter stands against a green screen while projecting a computer display as shown at left. The codec binds the presentation behind the presenter in place of the green color and positions the presenter in front of their presentation, instead of the more common split screen with H.239.
According to Laura Shay of Polycom, the feature always gets fourth graders jumping up and down because applying this technology outside the TV station is easily recognized as both fun and a cool thing to do.
This post has already been read 0 times!
Edit