RADVISION's New Rad-Rooms

RADVISION announced April 19, 2010 the company's latest entry into the endpoint product market. With technology acquired from Aethra in February 2010, the new Scopia XT1000 is the company's first entrant into the room equipment market.
Aethra had been a RADVISION OEM partner integrating the MCU and Scopia desktop portfolio with Aethra cameras and codecs. With channels primarily in western Europe, Asia-Pacific and Latin America the new RADVISION product lineup promises to aggressively add to RADVISION's presence in the global video marketplace. As you know, RADVISION has been an innovator in IP video infrastructure and applications OEMing parts of its portfolio to Cisco, LifeSize and others while also reselling under its own Scopia brand. Revenues were $81 million in 2009.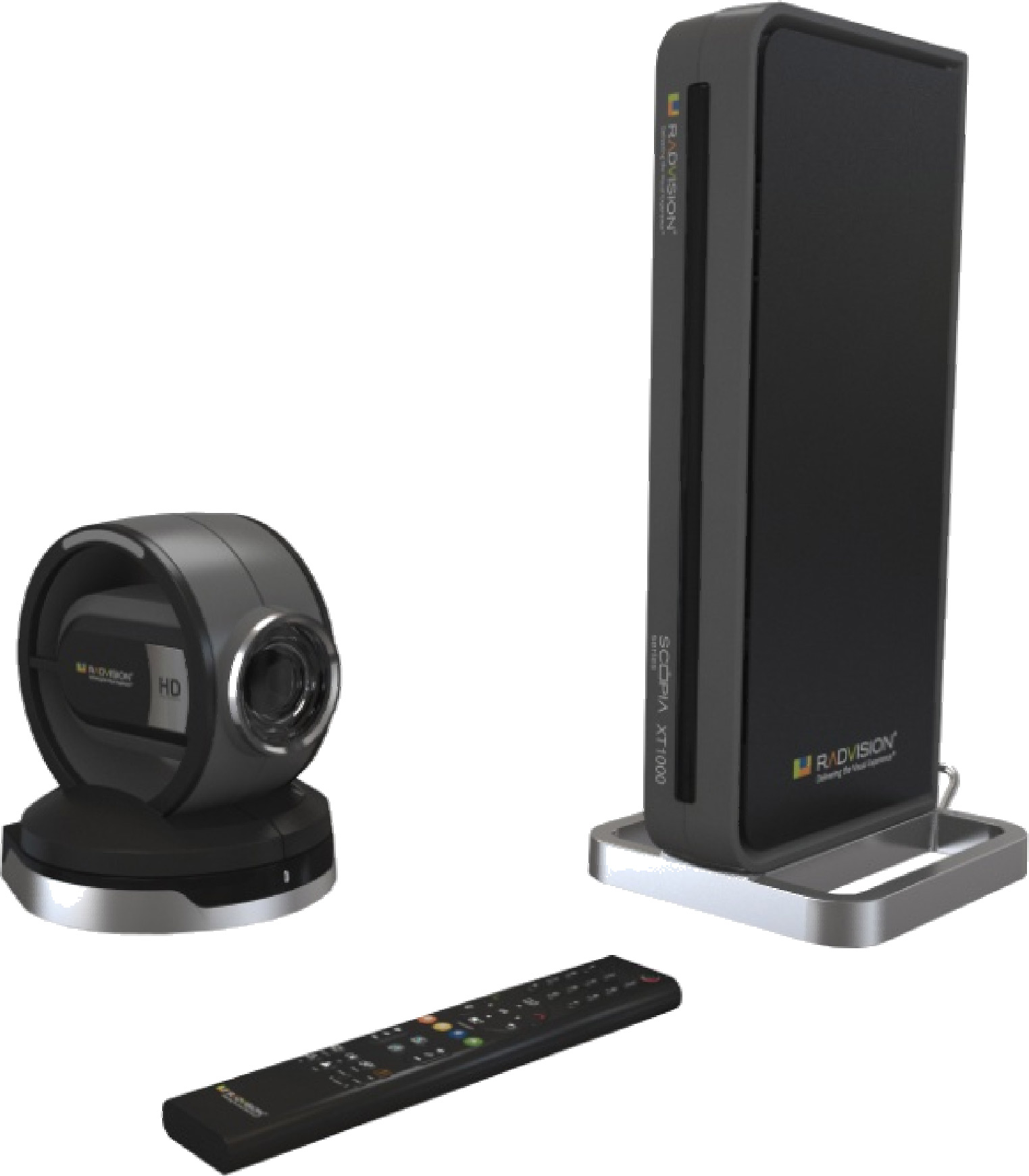 I had a Scopia Desktop briefing (my first since I use a Mac OS X desktop) on the Scopia XT1000 with Bob Romano, VP Enterprise Marketing and am impressed with its naturally good looks, very solid performance credentials and radical pricing in its value bundles.
The goal of the offering is to present the market with the extremely high performance attributes of a Cisco (formerly TANDBERG) – Polycom room system with the economics of a LifeSize system. They're doing this through three core attributes: 1080p, superior audio and high resolution data sharing capabilities.
The new HD camera is a 10 x optical zoom, 1080p Pan-Tilt-Zoom with a wide angle field of vision (8-74 degrees horizontal field) and support for as much as two 1080p transmissions at 30 frames per second. A future software release will incorporate RADVISION's Scalable Video Coding (SVC) technologies.
Each of the microphone pods has three beam-forming microphones that can cascade together to cover off presenters distributed around a large board room, for example. AAC LD and G.719 20kHz audio codecs are supported.
The data sharing service can be one of the 1080p – 30 fps and can deliver up to WUXGA (1920×1200 pixels), so even the most demanding digital video processing applications (software games for example) can be shared remotely.
Every XT1000 unit can also optionally support multi-party conferencing with as many as 9 participants involved in a continuous presence. Each XT1000 unit comes with dual monitor support – perhaps one for data and one for participants, one for near and the other for far-side cameras, or some combination.
Here's a short synopsis of the new products and software licensing bundles (monitors are not included):
Scopia XT1000 – 1080p30/720p30 10 x PTZ camera, dual display, microphone pod, 4 MBPS, remote. MSRP $7,400.
Scopia XT1200 – 1080p30/720p60 10 x PTZ camera, dual display, microphone pod, 4 MBPS, remote. MSRP $10,400.
Other options:
Second audio pod – add $650.
Second camera (1080p30) – add $650.
4-way MCU – add $4,000.
9-way MCU – add $12,500.
12 MBPS option – appropriate to assure quality of experience for multi-party conferencing – add $1,000.
Special bundles:
XT1004: XT1000 + MCU 4 option + 12MBPS option + second microphone pod = MSRP $11,750, a 10% list discount to the a-la-carte buildup.
XT1009: XT1000 + MCU 9 option + 12MBPS option + second microphone pod = MSRP $14,900, also a 10% list discount to the a-la-carte buildup.
Final Thoughts
Overall, this announcement presents a compelling case for the RADVISION brand and solution by further extending the well-respected RADVISION and Scopia brands into the endpoint space. From a timing perspective now is a particularly timely entry too. Given the market's renewed emphasis on avoiding business travel (see volcano post) and the need for productivity in the meagre investments available in the market. This platform is a great discount to the premiums typically available to the Cisco-Polycom brands, and available with more extensive features.
And, with the recent conclusion of the Cisco-TANDBERG deal, there will be a flood of new investment by Cisco on promoting its latest video offering, which will encourage users to consider the Cisco offer. This investment will also encourage recession-weary and value-conscious buyers to seek better valued alternatives like RADVISION, which with its street credentials and savvy technologies will attract substantial interest, particularly outside the US where the Aethra channel is familiar with the RADVISION portfolio and with the Aethra offer. In the US, where the channel coverage may be somewhat limited, traction may be a problem.
Even still, video managers should definitely check out the new RADVISION Scopia XT1000 series as they develop their video conferencing deployment plans for the second half of 2010.
This post has already been read 0 times!
Edit