Skype for Enterprise via Vosky

I had a pre-VoiceCon briefing with David Tang, VP Global Marketing of Vosky, early in March 2008. David introduced me to the Skype-certified gateway company. The company has thousands of units deployed, have developed a global two-tier distribution network and over 100 US PBX resellers. They've also been certified in Avaya, 3Com, ShoreTel and Altigen 3rd party developer programs. Vosky is a wholly-owned subsidiary of Actiontec Electronics.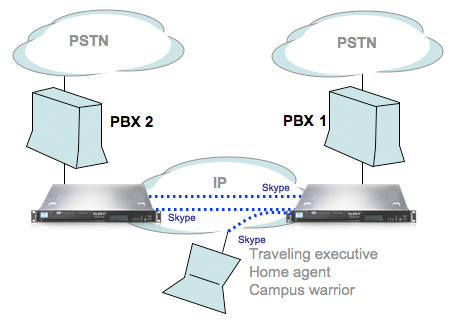 We've all seen VoIP gateways before. Using standard Q.731 PSTN trunking interfaces, the gateway initiates gateway-to-gateway sessions avoiding toll charges, something that may be small potatoes in the USA, but not to Asia, Latin America or Africa. In fact, this approach debuted in the Micom VIP product in 1995. Nortel acquired Micom in 1996. The unusual approach of using Skype presents several advantages including name recognition for enterprise buyers, resellers and users, privacy for node-to-node communications, and high availability.
Other applications supported include the use of SkypeIn for inexpensive 800 service. Enterprises purchase SkypeIn services with DIDs of other countries. Customers call those SkypeIn circuits that terminate on the VoSky gateway and are processed at the PBX as if in a call center, in the usual way. Traveling executives can use their laptop and a Skype client to register on the VoSky gateway and conduct telephone calls through the PBX in the usual way. Vosky appliances can also support enterprise dialing such as 4-digit dialing to and from the Skype clients, so workers at home can call and be called as if they were in the office.
A clever use of the Skype service, this capability will go far in major markets affected by the still ridiculously high long distance rates such as calling to Latin America, India, China and Africa. It also fits well as a capability that retrofits legacy PBXs with inexpensive remote agent or VoIP client access, in the range of $4200-$10000 depending on functionality and line side or office side service requirements.
This post has already been read 0 times!
Edit