TANDBERG Alliance Review: Barco Telecollaboration – When Big Counts

Barco announced at the Las Vegas InfoComm last month, an agreement with TANDBERG to jointly deliver a tele-collaboration product that was on display in the TANDBERG booth. Barco is a world leader in digital display technologies for theatrical, entertainment, broadcast and telepresence markets.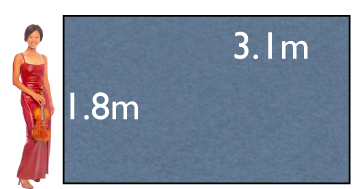 The product enables massive data transmission from multiple sources so participants in multiple sites can share and review complicated data presentations. This product is all about the PRESENTATION. I've drawn a representation of the display wall; it's 1.8m x 3.1m, and with the help of Angella Ahn, the violinist in the Julliard-trained [[Ahn Trio]] (whom I've estimated is about 5'11" tall) we get a sense of the enormous display at our fingertips.
Larger than most white boards but with the benefit of being an electronic display, there are special software required to not only light the display, but also to partition the display so that the pixels (and there are millions of them here) can be divided up and put the FoxNews display in the upper left, the seismological analysis (complicated data) on the right and the telepresence participants in the center.
This is a projection system and comes equipped with XDS control center software, the pixel management system, the TANDBERG codec, TMS directory service and is completely integrateable with the various unified communications implementations available with the TANDBERG portfolio.
List price is $200,000 which is quite reasonable for large room and specialized intensive data manipulation common in Presentation Centers, data-dense intensive engineering projects, office collaborations, web conferences and even some specialized auditorium-based telepresence sessions. This solution will be sold through the Barco direct sales channel and available as part of a professional services implementation for both the TANDBERG indirect channels and the Barco sales force.
This new product proves to me that big counts.
This post has already been read 0 times!
Edit