TANDBERG E20 IP Video Phone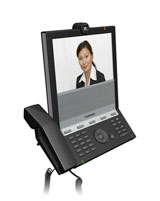 Not to be outdone by its video communications nemesis, TANDBERG announced the availability of the E20 IP Video Phone only a few hours later than Polycom on March 9, 2009. I love a good competition!
Although originally announced in June 2008, I didn't write about it then because it wasn't shipping. Well now it is. Also available for display at Voicecon, the E20 is on my list of things to see and learn more about at the show in Orlando later this month.
Key features: 10.6" native 16:9 Widescreen, DVD quality camera with w448p video format, H.263, H.263+ and H.264 video codecs supported. The phone does require separate power brick to power the device which requires a maximum of 24 Watts.
MSRP is $1,499 which puts it at a 50% premium to the Polycom VVX 1500, which in large quantities could be an especially big deal.
Although the video quality sounds impressive, I'm not sure yet whether this device is a Unified Communications Phone. I see this as more of a video phone than a unified communications phone. Whether it is a video or unified communications phone will depend on two important factors:
what other applications are supported besides video and voice. IM? Presence? Video messaging?
what sales channels will sell this product? video or AV specialists? carriers? IP PBX Vendors? Microsoft SIs?
Watch this space for more in a couple of weeks.
This post has already been read 0 times!
Edit