Telepresence in Executive Conferences

The people at Fortune magazine organized a very eclectic 2-day agenda around a global conference in a southern California luxury hotel. I'm sure it was awesome to participate. I wasn't there, but had been to a Fortune conference in Paris, France in 2000. It was spectacular, and I'm sure this one was excellent too.
Nortel provided a telepresence capability that positioned the equipment of Polycom, together with the service management capabilities of Nortel, that went beyond the demonstration dialog of Nortel's arch-competitor at the VoiceCon event just last month in Orlando. Instead of just having one 60 minute session a la Cisco, Nortel made the technology and service a seamless part of the conference. They delivered four sessions involving telepresence as the travel-avoidance technology for at least one participant-speaker:
Updates from the Developing World with speakers in New Delhi, India
Greening the IT Industry with speaker in Raleigh, NC
Global Perspectives on Energy Policy with speakers and moderators in Paris, France
Sustainable Tourism with speakers in Frankfurt, Germany
Participants in the remote locations were accessible directly to the attendees at the Pasadena CA hotel.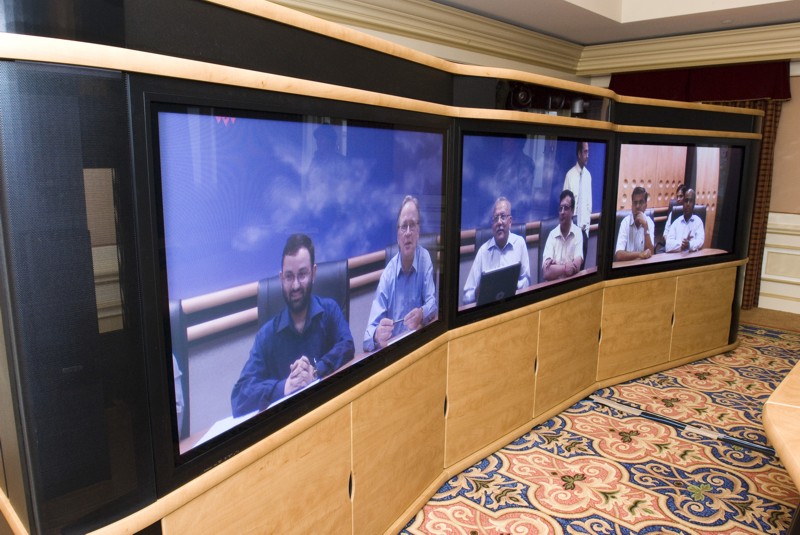 As predicted in this blog, the use of telepresence in conference keynotes will become a standard fare. Nortel's adoption of the service at this conference really pushed the yardstick in executive conferences, like this one. I think that these capabilities will fit particularly well in venues where the organizers are aiming for cosy and collegial settings, not thousands of people. It's best when the experience can be more personal, and since it is still a Seeing is Believing kind of market stage right now, it has to involve collaboration of and with senior executives.
It also fits well when it is relevant to bring folks from across divergent geographies to discuss relevant topics where business travel seemed underwhelming, or can't be accommodated. Organizers no longer have the worry about conflicts with particularly desirable keynote speakers either. This way, virtually any schedule can be accommodated and squeezed in without having to resort to red eyes or back breaking travel schedules. Is this the future of political campaigns?
This post has already been read 0 times!
Edit