The Brockmann Pottery Co., Cincinnati OH
In 1862, Mr Brockmann founded with Mr Tempest the Tempest, Brockmann & Company pottery in Cincinnati Ohio.
Messrs Tempest, Brockmann & Co established a pottery in Cincinnati Ohio in 1862. In 1881 the name was changed to the Tempest, Brockmann & Sampson Pottery Co and in 1887 The Brockmann Pottery Co was organized by Mr C.E. Brockmann. The present products are cream and white granite wares. The earliest mark of this establishment was the English lion and unicorn with the T.B. & Co beneath. Since 1887 the same mark has been employed for C.C. ware with the letters B.P. Co.  On white granite the same device is used with the addition of words "Warranted Best Ironstone China".
Here are the pottery marks of the company described above. I suppose the monarchist trappings of the label were to make it seem as if it were imported china from the UK, the world leader in the product category at the time.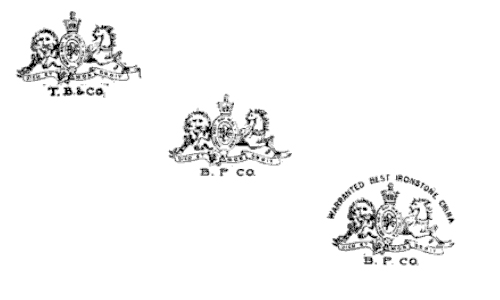 This post has already been read 0 times!
Edit