The Inter-Company Telepresence Handbook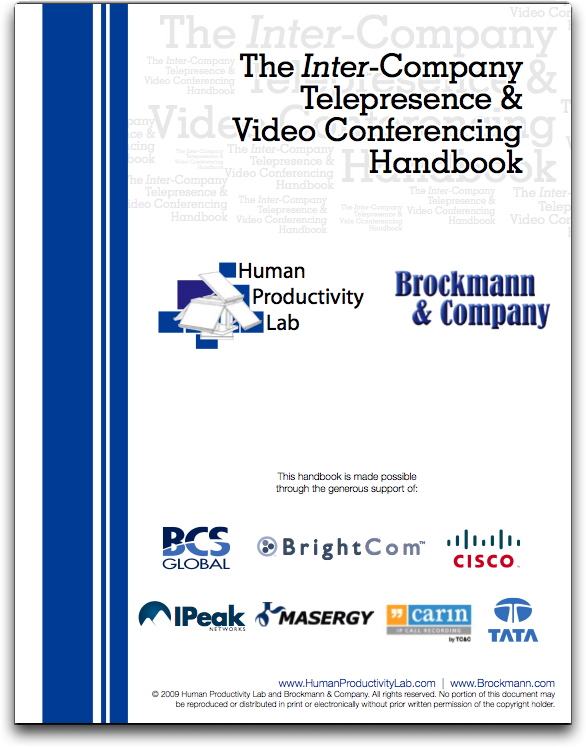 The Next Thing in Telepresence and Video Conferencing
Independent research firm and consultancy, 
Human Productivity Lab
and Brockmann & Company, the customer insight firm, have published the industry's first comprehensive handbook on inter-company telepresence and video conferencing. 
"The Inter-Company Telepresence and Video Conferencing Handbook"
educates CIOs, executives, managers, telepresence and video conferencing professionals about the opportunities, challenges and solutions for inter-company telepresence and video conferencing with partners, vendors, and customers.  
The Handbook is published during a week when a blizzard shut down much of the northeastern United States, 2,000 rail passengers are abandoned below the English Channel for hours, and a British Airways union threatened to strand tens of thousands of passengers. Enterprises need to have a form of disaster recovery that minimizes the disruptions of these kinds of problems.
In a collaboration between Brockmann & Company and the Human Productivity Lab the Handbook provides insights on how to organize telepresence a business continuity plan, a form of corporate disaster recovery strategies.
This report is made available through the generous financial support of these industry leaders: BCS Global, BrightCom, Cisco Systems, IPeak Networks, MASERGY, TC&C Carin,  and TATA Communications.
This post has already been read 0 times!
Edit