The Value of Video Communications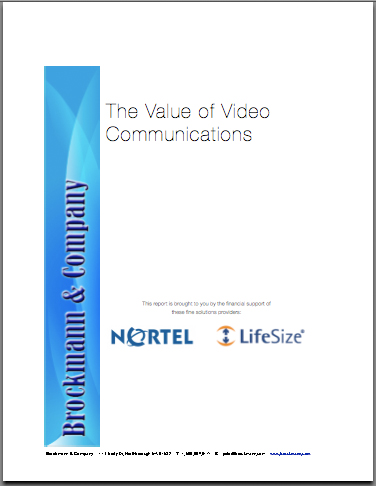 This report is based on the insights of 281 business users from around the world.
Key questions answered in this report
The core of our research goal was to determine: how valuable is video conferencing? What would users be willing to pay to attend an HD video conference instead of an all-day 50-mile business trip? an overnight 500-mile business trip? a week-long 5,000-mile business trip?
How does video conferencing compare to audio conferences? to web conferences?
What are the brand implications of one method of collaboration with customers as compared to another?
The state of video communications
HD video conferencing, personal video conferencing and immersive telepresence services have not yet leaped across the so-called 'Market Chasm' into mainstream business practice. Only 31% of our respondents participated in one or more HD video conferencing sessions in the past month. Only 11% had participated in at least one session of each of the three emerging services in that same period.
As with emerging products and services most companies struggle with two issues: how to determine the appropriate level of investment and how to justify that investment. This report offers insights into those two issues through comparative valuations.
The report reviews the classic approach comparing the service as a substitute for business travel. By looking at three distinct classes of business travel – day trips, overnight trips and week-long trips – Brockmann & Company developed a Demand curve for each class of substitution. From a review of the value of the service, a user can develop an investment plan.
This report is sponsored by Nortel and LifeSize.
This post has already been read 0 times!
Edit