Upgrading to Beyond ETFs 1.2.2 (50)
This post is less about the reason to upgrade to engage the latest features of Beyond ETFs, and more about how to check if you have the latest update and how to update if you don't have it.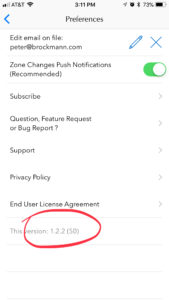 How to Check: To check, open Beyond ETFs and tap the PREFERENCES section. At the bottom is the version number. If it says something less than (50) such as (48), you should update the  software below. Generally, only a small segment of users have to deal with this since most have automatically update software enabled as a Settings > iTunes & App Store setting. Provided that Apple is happy with the Apple ID password state, this setting allows software updates to be deployed directly to your iPhone, iPod or iPad. A huge convenience for the iOS developer community – and users alike.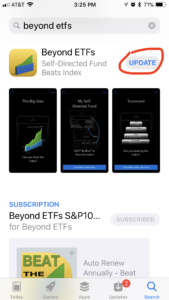 How to update: go to the App Store app. Tap on the Search tab button. Enter Beyond ETFs in the search field and then the blue Search button at the bottom of the onscreen keyboard. This will discover the source App Store page for Beyond ETFs and will show our basic content with an
Of course the reasons for updating are varied, but from the developer's perspective, it is the only way to stay abreast of the latest features and bug fixes. Improvements to the experience can only be expressed in a new software update. So go on, get the latest!
This post has already been read 0 times!
Edit