Visitors Select Ratings of Blog Entries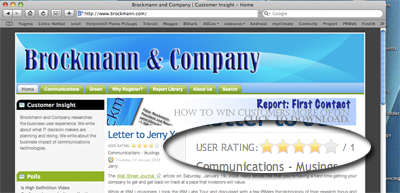 Now on Brockmann.com – the user rating system. Visitors can now rate our blog entries on a scale of 1 – 5. It's anonymous, and easy to do. You can only vote once per article.
To rate an entry, click on the title to go to the specific entry page and then make your choice and click the 'Rate' button.
Of course, the popularity of an entry is another technique we can use to determine 'what to do more of.' Your feedback is most welcome.
Brockmann & Company did use the comment feature of our content management system, but the comment spam created was most annoying and disruptive, so we uninstalled the component.
This post has already been read 0 times!
Edit