What Are The Outcomes of Higher Jet Fuel Prices?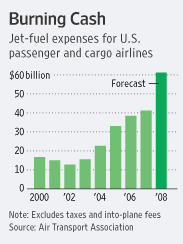 On Tuesday, (June 17, 2008) the Air Transport Association, the US carrier's trade association told Contress that the projected higher fuel costs could have broad and negative implications for the industry and the economy over all. The Wall Street Journal article (subscription required) reporting the presentation also referred to Northwest Airlines, Air Canada, United, Virgin America and AirTran Airways and their plans to reduce capacity by removing jets from service, cutting employees and reducing the number of flights.
Other airlines such as Delta, American Airlines, Continental, US Airways announced capacity cuts of 5-10%.
The higher fuel costs, in tandem with the capacity reductions will lead to higher airfares. So, higher prices, less convenience and fewer staff will lead to service reductions. These are the trifecta of the airline industry, and are what to expect.
This will have a positive effect on face-to-face meeting substitutions for businesses, an important premium segment of the US travel market.
And to further kick the airline industry, on Wednesday, June 18, 2008 the consumer satisfaction researchers J.D. Power & Associates announced their latest findings: "Customer satisfaction with North American airlines hit a 3-year low." (WSJ sub. required) This survey involved more than 19,000 consumers who expressed understanding that airlines need to raise prices to cope with higher fuel. Clearly, unprofitable airlines are not healthy for shareholders, for employees or the traveling public. The research also reported that users don't want to be nickel and dimed, but are willing to pay for services with perceived value.
Our report, The Value of Video Communications compares the financial tradeoffs of high quality video communications with three classes of business travel, and showcases the demand curves for the substitutes of three classes of trips.
This post has already been read 0 times!
Edit