Yamaha Introduces New Conference Room Phone Geometry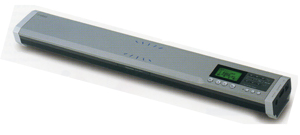 This elegant package is one of three conference room speaker phones brought to the Lotusphere show in January. The Yamaha PJP-100UH shown at left has built-in echo canceling, USB or audio cable hookups to PCs where the VoIP client will direct the operation. Measuring 750 mm long (29.5 inches) and 110 mm wide (4.3 inches), the device packs an outstanding electronics design inside.
With 16 microphones in organized in two arrays along the length of the product, and with 12 speakers integrated into the bottom of the unit, the technology for echo canceling, noise reduction and superb intelligence about where the audio is originating and playing back from were impressively displayed at the noisy show booth.
A little LED array shows the relative location of the person speaking (something the competitor's devices don't) which closes that feedback look that soft spoken persons will need to rely on instead of waiting for the remote participant to ask the soft-spoken person to move closer to the mic.
Yamaha Instrument Division's superb audio electronics bring a welcome innovation to the humble conference room phone, which had been dominated by the Polycom boomerang for a long time. The annoying satellite microphones of the competition are not necessary with the Yamaha device since users are classically arrayed along the 2.5 foot device in the center of the table.
Since the device requires a PC to operate it may be awkward in some conference room settings, but if users expect their PCs to handle the dialing and the calling, it's a great innovation.
This post has already been read 0 times!
Edit