Zultys of Sunnyvale CA is proof that good ideas can survive Chapter 11. Founded in 2001, in the height of the dot-com collapse, the company focused on developing a SIP-based IP PBX long before that was a popular idea. Sadly, the company went bankrupt in 2006 and is now re-financed, re-energized and re-staffed with talented executives (like Steve Morrison) determined to make a difference in the slow changing business communications market.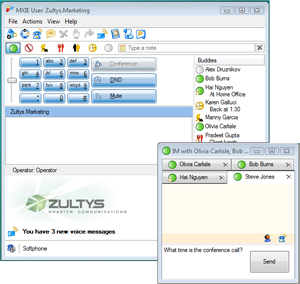 Today Zultys offers an extensive array of capabilities:
The MX30 is a solid-state appliance that addresses small business or branch office needs for a highly reliable, quiet and inexpensive business communications server supporting up to 30 users – much more if networked. 4 FXO ports are included in the appliance.
The MX250 is a 2U appliance for larger enterprise needs of up to 250 users – again, much more if networked, where customers can pick and choose the number of FXO, T1/E1 ports and cards necessary according to the Zultys ONE bundes.
MXGroup is an interworking application of the MX line that enables the shared dialing plan and call setup redundancy of 32 MX units and support for as many as 10,000 users.
MXIE is a softphone and UC desktop for Windows, Mac, Linux and thin client users that shows presence, secure instant messaging, sends and receives faxes, visual voicemail and a web conferencing service (MXmeeting requires an appliance, sold separately). MXIE can be integrated with Microsoft Outlook address books, email clients and right click to dial any telephone number.
Customers can purchase hardware for 4 and 8 port FXO cards, Dual T1/E1 cards, redundant hard drives, and license bundles for MXIE, fax, call recording, SIP trunking, auto attendant, voicemail access, operator groups and paging groups. To make it easier to configure basic systems, the company introduced Zultys ONE packages which bundle appropriate licensing for each of these typical features.
Going Mobile UC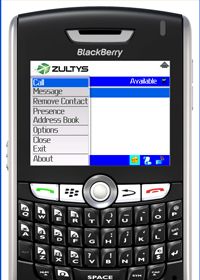 MXmobile was introduced at the IT Expo and I saw a demonstration by Marketing Director John Cunningham on his BlackBerry. The MXmobile client for BlackBerry complements the simultaneous ring feature of the MX-series IP PBX and extends several of the MXIE features into the mobile domain, specifically, presence, visual voice mail of enterprise messages, internal 3,4,5-digit extension dialing and corporate directory access. MXmobile also provides Least Cost Routing for mobile devices which signals the IP PBX to initiate a call to the BlackBerry. Although this feature introduces a longer time-before-talking interval since the user has to pass a message to the IP PBX so it can ring the caller first and then places the call to the called party, it can cut costs for the enterprise in markets where caller-party pays and the enterprise has negotiated lower rates with the mobile operator.
Zultys will be releasing the MXmobile client for BlackBerry in the fall of 2009, and expects to introduce the MXmobile for iPhone in early 2010.
This post has already been read 0 times!
Edit