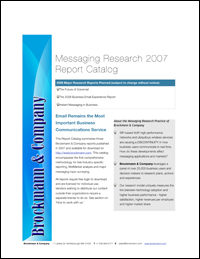 Download.
This Report Catalog summaries those Brockmann & Company reports published in 2007 and available for download on this site. The catalog encompasses the first comprehensive methodology for industry-specific reporting, MidMarket analysis and major email topic surveying.
All reports require free login to download and are licensed for individual use. Links are included in the catalog.
Vendors wishing to distribute our content outside their organizations require a separate license to do so. See section on 'How to work with us.'
This post has already been read 0 times!
Edit