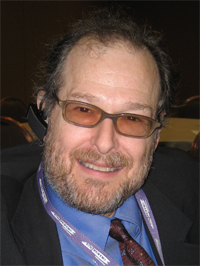 Stephen Dukker is a founder, CEO and man with a vision. The former founder of eMachines is now focused on a new approach in computing – it's the 'terminal server' but better.
I met Stephen at Interop where he briefed me on the scope of his latest venture – nComputing. Stephen makes a case for a discontinuity in computing where the natural competitive forces drive the cost of the assembled product nearly to the sum of the costs of the components. PC prices can't go any lower.
There are still under served segments: the developing world, education, even home computing.
Using proprietary ASICs to create a proprietary high performance terminal-server solution, the company has managed to sell 250,000 units so far, and are shipping 20,000 seats a month. With 90 employees and a global network of resellers in 70 countries, the solution comes in two varieties leveraging a small appliance form factor, a proprietary User eXtension Protocol to power remote stations and access terminals:
X-series includes a PCI card (for the PC as server), a device to terminate the UTP cable and interface with the keyboard, mouse and monitor. It can handle a maximum of 7 users.
L-series includes a device to terminate Ethernet and interface with the keyboard, mouse and monitor. It can serve as many as 30 users.

Stephen mentioned that they have achieved (an understated share since that analyst doesn't consider shipments of the X-series as PC seats for some (silly) reason) 4.5% share of the US K12 education market for PCs through a network of 100 VARs. Globally, the company is selling strongly in price-sensitive segments in developing markets such as China and Brazil. This solution also has a great fit with call centers too.
Nevertheless, being able to split the processing capabilities of a high performance PC among six or 30 other users needs a compelling economic advantage – and nComputing has one. $70/seat is a pretty strong disruption in breaking through the floor of the price threshold of personal computing.
Next steps can include expanding the terminal module into remote control of other devices – maybe home appliances, security or process automation.
In any event, this is the right kind of New Math that the technology budgets of our school systems really need. Or, with this kind of multiplication, it may just be the right time to reduce the collections of the E-Rate Program?
This post has already been read 0 times!
Edit