A Small Business Trinity?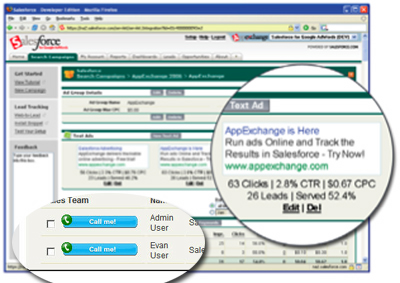 Google Adwords, Skype and Salesforce.com are a potent collaboration of three market leaders. Powerfully, all three have direct to user sales models and deliver self-administered services. All three dominate the small business sectors, or are on their way to dominate.
Skype and Salesforce.com enabled a collaboration earlier in May 2007, where users of Salesforce.com could click on a user contact and their Skype client would begin dialing, or when finished with a SkypeOut can have the client's record popup so that the record of the call can be attached. This simple integration improves the productivity of Salesforce.com users, who otherwise have to cut and paste, or retype the phone number of the user.
The integration also enables screen pops, so that when so-and-so client calls on the SkypeIn, the context of the contact record appears in the browser.
The recently announced Adwords and Salesforce.com collaboration is a backoffice integration that simplifies the marketer's job by allowing a responder to a search advertisement to complete a request for followup to be automatically entered as a 'LEAD' in the Salesforce.com system. But Salesforce.com allows the Adword program attributes – campaign, keyword, ad – to follow through the sales cycle – pipeline, forecast and results, and allows the marketer to adjust their keywords, campaigns as feedback from the complete sales cycle drives the search engine advertising input to the model.
Brilliant in design. However, there are challenges. Salesforce.com is notoriously slow, and at times cumbersome. I know, I've been a user of their service and other people's products in previous lives.
This post has already been read 0 times!
Edit