Adtran Takes Step Forward With ObjectWorld Deal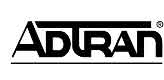 ADTRAN, the $500 million Huntsville Alabama manufacturer of over 1,700 products, acquired in September 2009 the Ottawa Canada Microsoft-focused unified communications company, ObjectWorld. More recently, ADTRAN announced the Netvanta UC portfolio, which incorporates the rebranded ObjectWorld offering.
The Netvanta portfolio includes a wide range of busines-oriented communications products including SIP trunking gateways for hosted service providers (Netvanta 6000 series gateways), gateways for CPE deployments, SIP phones, small business IP PBXes and the new Netvanta UC solutions. Extending their presence in networking boxes, ADTRAN now enables software applications through the range of Microsoft-focused software-enabled UC:
UC server – allows VARs to offer feature-rich, software-driven communications-flows as an add-on to existing IP PBXes, or PBXs. This is the original ObjectWorld product line.
Business Communications server – this offer is a bundle of the ObjectWorld software and the ADTRAN Netvanta 7000 IP PBX for less than 100 users.
Enterprise Communications server – this software-only bundle integrates an IP PBX that scales from 75 to 2,000 users with the UC server software.
Business Applications server – the incredibly flexible formerly-ObjectWorld-branded software is available for developing specialized communications-enabled business processes.
Although ObjectWorld had been successfully addressing the needs of hundreds of companies for many years, it struggled as have many others, with the development of sufficient scale in distribution channels to effectively enable the small business market. With the combination with ADTRAN, however it strikes me that in fact, this channel challenge will disappear for these software products. ADTRAN has, over many years successfully built relationships with resellers and customers that reflects their no-nonsense approach to products and their total attention to functionality.
This post has already been read 0 times!
Edit