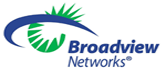 I had a briefing last month with Russell Fordyce, Managing Director of Marketing for Broadview Networks, the acquirer of [[CLEC]]s now operating in 47 states, but primarily in the Northeast from Maine through Virginia. They have 3,000 route miles of fiber, offer a complete suite of carrier and hosted services for enterprises including MPLS services.
Rollups are an efficient method for aggregating small operations in like businesses into a larger scale competitor. They have been particularly successful in oil production, mining, railroads, airlines, cable TV and telecom services where the consolidation of many small operators creates buying power and an economy of scale in negotiating on major factors of production such as labor, equipment, fuel, content owners and governments.
The centerpiece of the Broadview hosted services is the OfficeSuite. This is an outsourced phone system service, which ought to be viewed as a virtual key system based in the cloud. No incremental network equipment is required for customer deployment other than the IP phones. Customers need only have an Internet access circuit of sufficient bandwidth to support peak communications demand.
Clients pay a monthly fee that is based on the number of 'lines' (typically 1 for every 5 stations or so starting with a minimum of 2), number of stations and per unit of advanced features. Station features are organized into basic, standard and executive classes and priced in the range of $10, $14 and $22/month. DIDs can be acquired somewhat inexpensively too (block of 20 for $5/month). Unlimited national long distance is included, some international rates apply.
Premium features include access to the USB softphone for Windows computers which supports an E911 query, speakerphone and administrative assistant 'side car' for an additional $5/month. This gives Broadview a focus on the small business marketplace that need the power of a key system vis-a-vis the more corporate and more administratively burdensome and more sophisticated PBX system, but want to avoid the cash outlay to own a system. Key systems have multiple line appearances on all extensions and a shared DID numbering plan.
The OfficeSuite includes a dial plan, gateways in the central office, voicemail, user and administrator services through a portal, support for multi-site implementations, mobile twinning (simultaneous ring) and hot desking. Based on the Natural Convergence (a Mitel-based softswitch design) implementation where Broadview owns the code, the system also includes a portal for administrator control of the system. Here's where clients define their voicemail policies, broadcast groups, administrative privileges, auto attendant configuration and recordings and call coverage plans.
Broadview is well positioned to enable lower cost, feature-rich hosted communications services for small medium businesses throughout the northeastern United States. They are particularly attractive to customers with more than one location, where inter-office dialing and an interconnected, private high-speed (MPLS) WANs can make a difference in business service, security, control and IT costs. The small-medium market has been particularly under-served by the traditional phone companies, which tend to over-price and under-feature their offerings for this market.
This post has already been read 0 times!
Edit