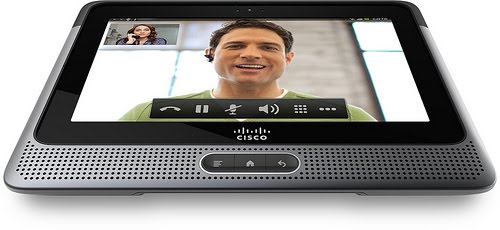 Clever branding aside, the Cisco Cius (pronounced SEE-us) telepresence pad announced by Cisco at its annual customer event promises to change the game in a couple of key areas. As with any new not-particularly well understood device the big question is what's the usecase, who will use it?
Firstly, as David Deans pointed out, the platform is designed to bring together all of Cisco's other collaboration services (Cisco Quad, Cisco Show and Share, Cisco WebEx Connect, Cisco WebEx Meeting Center, Cisco Presence, Cisco TelePresence) like never before. The attractive package supports 3 USB, various wireless networking, 10/100/1000 Mbps Ethernet and comes with a keyboard and telephone handset option. To scale it properly, the 7″-diagonal screen handheld telepresence pad is 0.59″ thick. The Apple iPad is larger and thinner with a 9.7″ diagonal screen and 0.53″ thick and doesn't include the USBs or the Ethernet interface.
Personal productivity applications like email, calendar, word processing, spreadsheets and presentations would be handled through the browser and in the cloud through Google Apps.
Running on Google Android, the device has the potential to bring many more apps and app developers to Cisco product than Cisco has ever been able to accomplish to date, per Zeus Kerravala of Yankee Group precisely because they'd be working with Google Android and not necessarily with any of the dozen or so Cisco Developer Programs.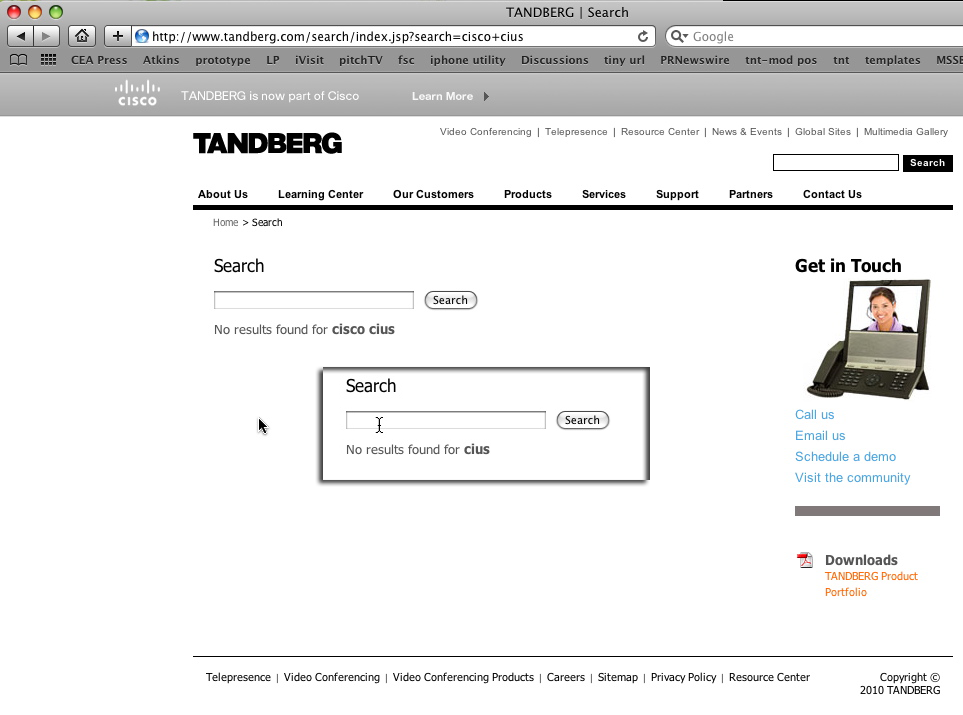 Somewhat interesting, but not entirely surprising as shown in the screen capture at left, is that there's no mention of 'Cius' and no mention of 'Cisco Cius' on Cisco's recently acquired TANDBERG.com site two days after the Cius announcement. Content is only available on the Cisco corporate site.
So, I suppose this product has nothing to do with the newly integrated Telepresence Division. I would further guess that this means this product is not meant for Cisco's newly acquired enterprise AV distribution channel or product group?
Some argue that this product will be suited to select vertical implementations. I disagree. I'm thinking that it will become an executive desk toy, in much the same way the video phone has become a 'proof of status' symbol. It's only if Cisco is able to integrate the platform into industry-specific software and workflows will the product be useful outside the exec-toy segment. That will only come from third party developers who want to make a business in the space.
But then again, why would you use this device and not an iPad? That'll be the big question for lots of business people.
This post has already been read 0 times!
Edit