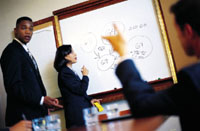 This report reviews the insights provided from respondents in the finance, banking, legal, insurance and real estate industries.
Adoption, usage, importance, frequency, decision factors are reviewed contrasting the five basic conferencing implementations – audio, web, room video, desktop video conferencing and face-to-face meetings. There are several surprises in this report around importance, incumbency and decision factors.
This post has already been read 0 times!
Edit