Disaster Survival in a Carry-on Bag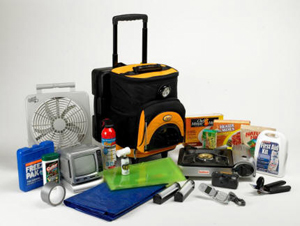 What a great idea – everything you need to survive a power outage. Born from the recent flurry of hurricane activities, the experts behind the Life-SaferPak researched what people really need in the event of a sudden or with-warning disaster affecting electrical power. Included in the carryon cart is a stove, TV, fan, phone, water proof document envelope, cooler, duct tape, first aid kit, signal horn and many other necessities.
Sure beats running to the Home Depot to see what everyone else is buying (you'll notice at the check out or by the empty shelves ).
Only $225, available over the web.
Should enterprises have a disaster survival kit? What would need to be in it?
Related report: First Communications (Disaster Recovery Priority).
This post has already been read 0 times!
Edit