How Do Airlines Respond to Reduced Demand?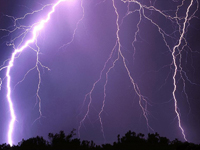 SOLD OUT. Get used to this, you'll be seeing it lots more as airlines fly ever fuller flights. There was a time where being at the airport meant you could get to where you wanted to go without too much waiting. Not anymore.
My connecting flight to New York and Burbank on Monday, August 11, 2008 got postponed due to thunderstorms in the JFK area. So, I waited and while standing in line to reschedule my connection, and after waiting on hold for many, many minutes, the call center agent came on and told me a most depressing thing – as all other seats were taken to Burbank, would I like to fly on Tuesday?
Of course, just then the counter agents called me forward and I went through the whole dialog again, this time with a person in front of me. Alex confirmed what I had only moments before learned from Lisa: there was to be no travel via JetBlue to Burbank on Monday (from Boston).
It hurt a lot to just hang out at the airport for hours and hours like I've done a million times before, except this time was different. There was no hope of getting to my destination. I got a refund and called American Airlines where they booked a flight through Miami that would get me into LAX by 11 pm or so. Sadly, but relieved I paid the 2 x premium and waited for the self-service machine at Logan to let me get a boarding pass.
Through security and at the gate, then another disappointment – the aircraft scheduled to go to Miami had not yet arrived and was late arriving, so the flight would be delayed such that I would not make the connecting flight. Quick call to the AA call center, and it was confirmed that there was no way to get to the LA area on Monday.
So we cancelled the AA flight and booked again on JetBlue for Tuesday since all flights were booked.
To make matters worse, I couldn't get a rental car in Burbank on Tuesday. All the agencies were SOLD OUT. I did get a car, at a rental counter 3.6 miles from the airport. Can traveling on business get any more painful?
This post has already been read 0 times!
Edit