Improving VoIP Audio Quality
Most small and medium business deployments of IP PBX functionality have kept all the voice in the LAN. That's because most of this class of user had simple wide area network needs and were the target of the early vendors into the IP PBX market.
Some larger organizations and even carriers implemented VoIP traffic across the WAN, but learned the importance of always paying careful attention to the voice quality. Features like Quality of Service, Differentiated Services and even MPLS Class of Service are all system-wide features available to sophisticated networks to assure that voice quality is high.
Now, as hosted VoIP services pushes traffic streams for the small and medium businesses across the LAN into the WAN for termination on IP endpoints of other companies or on gateways for PSTN terminations, what easy to use features are available for small and medium business? home workers? and even consumers?
Surely audio quality is important for these organizations and people too?
That's where the iSpeedbump from InterWorking Labs comes in. I met Chris Wellens, the CEO of the SIP and SNMP test software company, at Interop where we talked about the company and their latest new product.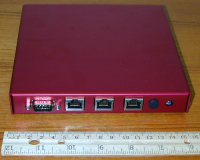 This neat little appliance fits between the LAN and the WAN link. Using the technique of monitoring packet flow for SIP messages (which look like http messages) and then discovering which ports are used, the device then assigns priority to the real-time packets by buffering the other traffic through a queuing sequence. In this way, VoIP or video over IP traffic can get a speed bump-up, or at least a bump-up in priority.
I have been on my WiFi-attached IP phone system while my son begins to play networked Halo which created a serious degradation in voice quality – packet loss and jitter – so much so, I had to switch to a mobile call the old fashioned way by hanging up one phone and dialing up on the other.
This small site VoIP Quality Assurance Appliance takes bandwidth management to a new small scale, where it is definitely needed. $499 for better audio quality? Bring it on!
This post has already been read 0 times!
Edit