In-Flight Internet Access Drawing Closer?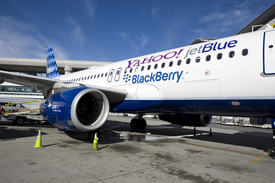 The push for better air-to-ground communications in airplanes is growing stronger, and now that JetBlue 's LiveTV is going to buy Verizon's [[Airfone]] which was going to be shutdown by December 31, 2008 if JetBlue didn't buy it, so it is clear that airlines are anxious to accommodate passengers' demand for Internet and email access during flights.  LiveTV, the JetBlue in-flight entertainment provider, will take all communication towers as well as clients from Airfone.  JetBlue began testing an in-flight Wi-Fi email/instant message program on one of its airplanes in December, and it now looks like more are to follow. For now, the airplane only allows email and instant messaging through certain Web-mail providers, as well as access to Amazon.com, but the foundation is being put into place. JetBlue isn't the only airline to start trying to bring internet access to the sky; American Airlines is hoping to start it's air-to-ground system in the near future, and Continental Airlines reached an agreement in January with LiveTV which will bring its entertainment and Wi-Fi on board. Lufthansa, a 20% investor in JetBlue has been enabling WiFi on select international routes too.
As business communication relies so much on email (see The Problem with Email report), it actually is somewhat surprising that the technology to provide Internet access on commercial airplanes has not yet been installed. There may be some who enjoy the time in the air as a break from the busy work life, or in the case of JetBlue like the transe-like state of watching TV in the headrest of the seat in front of you, but there are plenty of businesspeople who need to check email constantly. An airline with email access would be the only choice for them, provided they flight the city pairs necessary. Also, aside from business people, Internet access provides entertainment on its own, so it could easily make air travel more enjoyable.  Although we are probably a ways off from regular Internet access on airplanes, an airline with Wi-Fi would definitely have a competitive advantage in the air travel industry.
This post has already been read 0 times!
Edit