Interop: LifeSize Shows Off The Product

LifeSize of Austin TX had a really clever approach to the classic problem of the trade show booth. They took the people who rarely get out of the office (the inside sales professionals) and dressed 'em up in trade show uniforms and flooded the boundaries of the booth with talkative and friendly customer-facing people. Each had a similar story – they knew the products, listened to what your requirements were and delivered the next step of the qualification process.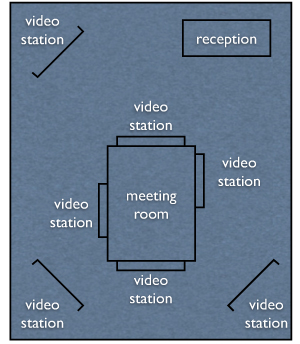 In the center of the booth was a meeting room and networking closet. At the sides and frankly all around the booth were video conference pods showing off the product. Each video station was connected to a different LifeSize employee back in HQ. The whole effect was awesome.
When a booth person got carried away with something – processing visitor forms, personal break or whatever – the person in the remote office took over the station and initiated conversations with booth passerbyers and even analysts!
This was a very well executed use of the product to promote the experience. Definitely, LifeSize pushes the yardstick forward on how to demonstrate any product or service using video collaboration technology. Oh, and there was a unit in the meeting room too.
February, Cisco used telepresence in keynote.
March, Nortel used telepresence in executive conferences.
April, LifeSize used HD video conferencing in the show booth.
What's next?
This post has already been read 0 times!
Edit