Keystone's Internet Health Report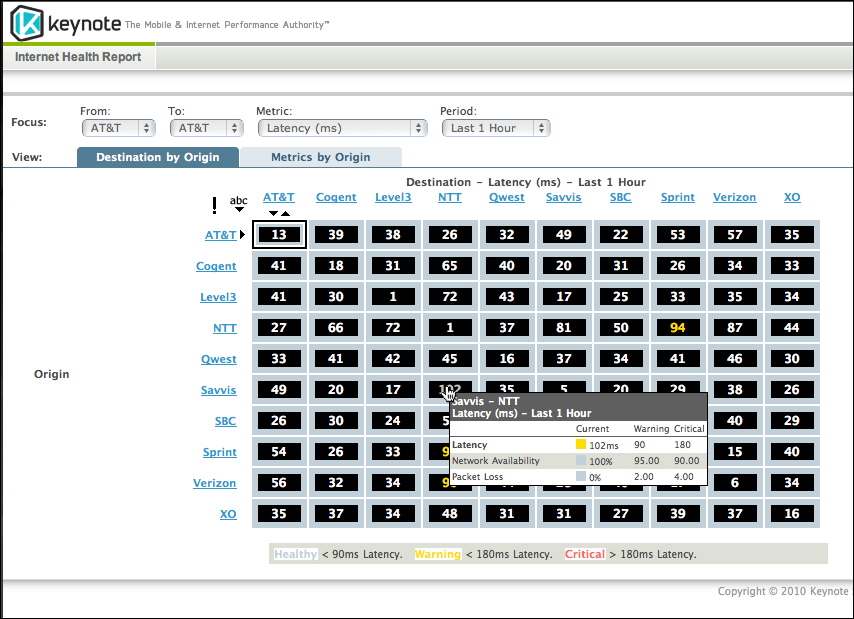 The quality of network service is increasingly a big concern for many users and for many applications. That's because more and more people are being exposed to real-time applications running over IP. Sure, some of these are store and forward apps – Xbox-based Netflicks or Zune streaming – and some are real-time – Xbox-based live game playing, VoIP and video conferencing.
Either way, the user's experience is negatively impacted when there is a network outage or congestion. My own Xbox-Netflicks experience has been degraded in recent weeks for no apparent reason. First, I thought it was my physical LAN connection, so I made a new Ethernet connector.
Then, I thought it was my DNS configuration, so I posted my own DNS server and my cableco's DNS server addresses.
Now, I think it's just congestion on the cableco network at a certain time of day, near 4 pm where there may be many kids in the neighborhood playing Xbox live… I'm keeping a log of when the service interrupts so I can speak intelligently about the problem and maybe even see patterns over time.
But, this Internet Health Report tool from Keynote Systems provides a simple mechanism to view inter-network connection quality. The tool presents the matrix of latency results measured in ms, and averaged over 1 hour, four hours or 24 hours. Similarly, I can click on the metric drop down box and choose to see network availability in % over the past 1 hour, four hours or 24 hours. Or, packet loss over the same period.
Users can click on any one origin-destination pair and see all three results for that combination.
This kind of independent, third-party service performance tool will increasingly be useful as users ask the question, what's wrong with my ____ and what can I do, if anything, to fix it? Users will use it to choose carriers or at least integrate it into their troubleshooting practices.
This post has already been read 0 times!
Edit