LifeSize Expands Portfolio with Express & Conference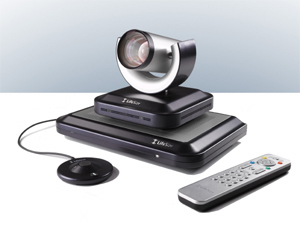 Earlier today, October 23, 2007 LifeSize, the Austin high definition telepresence company, announced the latest additions to their high definition video conferencing and telepresence portfolio. The LifeSize Express is a new package for executive offices and ad hoc sessions. It encompasses the latest release of the awesome HD camera, the simple and elegant remote control, a new small microphone and a new appliance that is smaller (cigar box-sized) than the standard Team.
The new package sports an impressive feature list: 1280 x 720 @ 30 frames per second for 16:9 presentation, H.239 and session bandwidth supporting speeds up to 1.5 Mbps; and a price point of only $5,999.
At the high end is the new Conference. This package is the company's Telepresence package that supports upto three cameras, three monitors, additional data sharing monitor, integrated wireless control panel and H.323 interoperability. Room furniture, lighting systems, installation and network operations are not included.
The Express joins a refreshed lineup of LifeSize products. Systems now sporting the latest LifeSize 3.0 software include the Express, Team MP (that's Team MultiPoint to you) which has a hardware boost to enable the 4-way multipoint conferencing capability, Room now with voice activated switching and support for two cameras, and at the high end, the LifeSize Conference.
The Conference offers full High Definition Telepresence functionality in that it supports multiple codecs, H.323 and SIP compatibility, integrated wireless control panel, up to three monitors and an additional data sharing content monitor.
Overall, the company offers four options to address the gamut of HD needs:
Express – for point-to-point sessions, up to 1.5 Mbps, MSRP $5,999
Team MP – for frequently multipoint continuous presence conferencing, MSRP $8,999
Room – with 2 cameras, dual monitors, 4-way continuous or 6-way voice activated switching, upto 5 Mbps, MSRP $11,999
Conference – with 3 cameras, 3 monitors, telepresence configuration, upto 15 Mbps, MSRP $39,999
I met with the CEO, Craig Malloy in Boston a few weeks ago. The company is making excellent traction in its business model in only four short years, has developed an impressive reseller roster and continues to grow both US and international revenues. This portfolio expansion in both the high end and low ends with a major feature upgrade of the Team to Team MP and with the voice-activated switching of the Room will greatly expand the product lines' attractiveness particularly against the established players.
Significantly, the strong technology focus of the company creates value platforms that leave plenty of room for reseller value-add. Value add like managed services of reservations, dialplan management, operational monitoring, network engineering, lighting and furniture deployment.
This post has already been read 0 times!
Edit