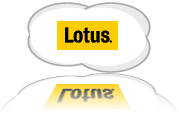 Lotusphere 2009, which happened just last week gave IBM the opportunity to make a big deal about the cloud. Starting with the 2008 announcement of Bluehouse , the company's initial multi-tenant hosted service implementation, IBM announced the acquisition of the email assets of a white label hosting service provider powerhouse – Outblaze – to emphasize IBM's big move into cloud computing.
When the deal closes in 1Q09, IBM will integrate the operation into Bluehouse, the Lotus multi-tenant service, currently in beta, and will aggressively boost their market position from probably less than 1 million users (IBM never reported numbers of the beta), to over 40 million accounts spread throughout the world, complete with extensive relationships with carriers, ISPs, universities and other major consumers of email services.
This strengthening of IBM's distribution strategy which is based on selling software to enterprises through business partners, selling software/services through service providers and selling an appliance (Foundations) through business partners, is a solid step forward and puts them in range of Google and Microsoft's applications services.
IBM is also building an ecosystem with Salesforce.com, Brainshark (Brockmann & Company is a Brainshark Content Network provider), Skype, Prolifiq, Synaptris and Nortel. They plan to publish an API to expand the list of participants.
LotusLive
Initial hosted offerings are Meetings, Events, Engage, Connections and Notes. Events and Meetings use the Unyte web conferencing service, Engage refers to files sharing, chat, activities, surveys, profiles features of Lotus and Connections refers to a subset of Engage features. LotusLive iNotes are web-based email service with personal calendar and shared contacts.
Free beta now underway.
This post has already been read 0 times!
Edit