Former University of Southern California and current New Orleans Saints running back Reggie Bush returned the 2005 Heisman Trophy to the Heisman Trust earlier this week.  Mr. Bush accepted around $290,000 in gifts from sports marketers while playing for USC.  Following his time at USC and after his lucrative edorsement contract with Adidas; once he had opted out of his senior year, he chose to not pay back the money he was given at USC to the marketers, who in turn sued Mr. Bush.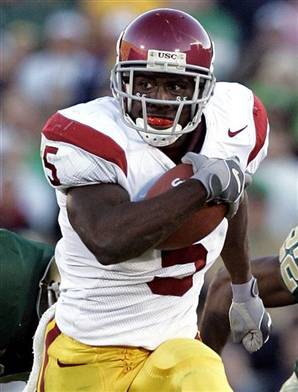 The Lawsuit grabbed the attention of the NCAA and five years later, Bush's Heismen is on it's way back to New York, and the USC Trojans find themselves in probation.  Of course it should be noted that the Heisman Trust were planning to meet hours before Mr. Bush made his annoucement of forfeiting the trophy.
The NCAA has vacated 14 of USC's victories in which Mr. Bush played in from 2004 to 2005, which include the teams victory in the BCS National Championship game in which they routed Oklahoma 55-19.
The NCAA may be able to 'air-brush' its recording of Reggie Bush's records, awards and accomplishments but what it cannot do is remove the memories of his outstanding gifts to college sports.  Reggie Bush was by far the most outstanding player in college football that year.  He can be described as the most electric player I have ever seen play, his ability to change momentum like a light switch with his abilities to return punts and kicks for touchdowns.  Or his ability to change directions at jaw dropping speeds.  Simply put, can anyone else name a Heisman trophy winner between the years 1995-2010?
It hurts as a fan of the college game to see this happen to someone who brought such excitement to the game.  I remember staying up late with my High School friends to watch USC play and to see Reggie Bush play.  But even with all the memories and all the excitment brought by Mr. Bush, its his accepting of improper benefits, that may tint, but will certainly not destroy Mr. Bush's legacy.
Maybe the NCAA's rules should be vacated instead of rewriting history?
This post has already been read 0 times!
Edit