Open Source Call Recording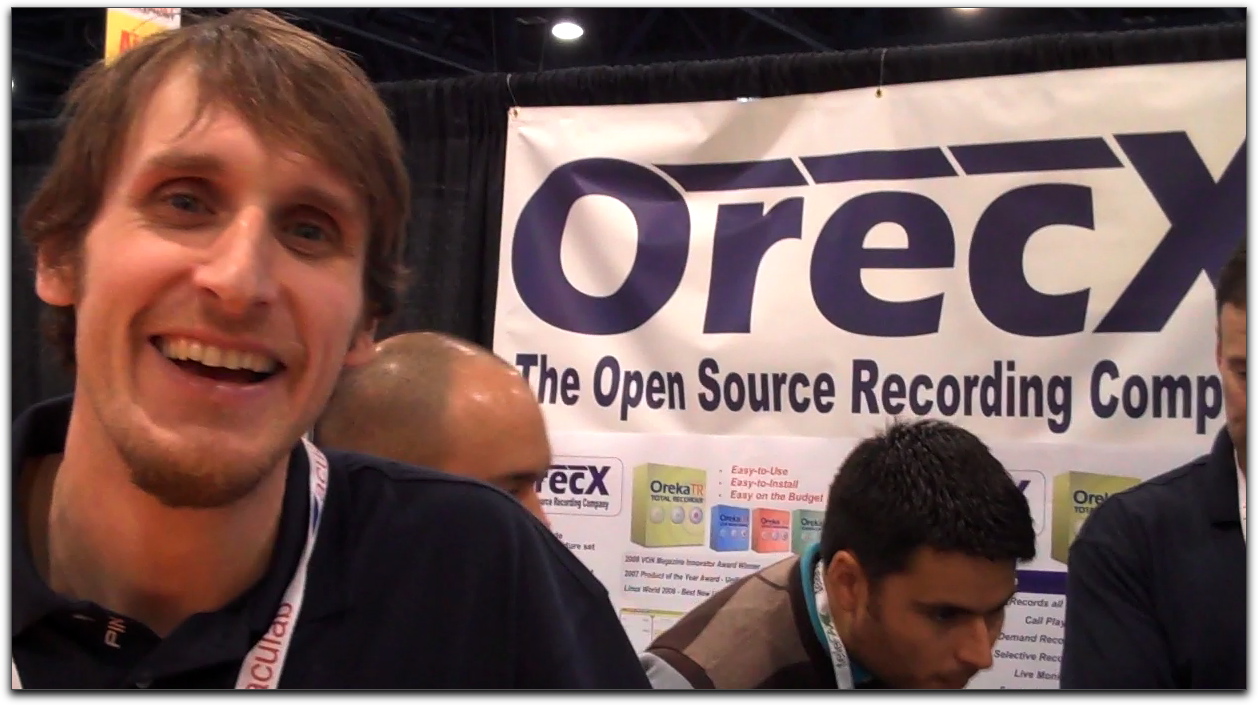 One of the real joys of visiting trade shows as an analyst is the chance to meet many interesting entrepreneurs and business people. Bruno Haas, a former Nortel dude too, is one such individual. His company, Orecx, is a leader in open source call recording solutions.
Bruno, who lives in Montreal Canada is the CTO and founder of the company, is also the lead on the open source call recording project, OrekaGPL. The beauty of modern IP implementations is that media stream that needs recording is all delivered as [[RTP]] packets, which establishes that the serious engineering requirements are in the call signaling treatments and nuances of each vendor's capabilities. That's why they've been able to build support for a long list of IP PBX vendors including: Alcatel-Lucent, Asterisk, Avaya, BroadSoft, Cisco (SIP and Skinny), Covad, Fonality, Interactive Intelligence, Mitel, NEC, Nortel, Pingtel, ShoreTel, Siemens, Switchvox (from Digium), Sutus, TalkSwitch, Taridium, Tekelec, Trixbox (from Fonality), Vertical and Zultys.
As suggested in my earlier post about Danny Windham's talk at ITExpo, the typical open source model is that to get support for the code requires a subscription fee, and to get advanced features requires a software licensing fee. Orecx is no different. The open source project delivers call recording of all calls and call playback options. Only the commercial version of the product (OrekaTR), however delivers advanced features such as on-demand recording (don't record every call, just the ones that I've chosen even during the call), live monitoring of the call, multi-site support, multi-tenancy services, call tagging or exporting, audit trail, call filtering so only those calls on these telephone numbers or IP addresses should be recorded, multi-level authentication and extended codec support, for example.
In our short discussion at the show, Bruno and I spoke about how the video conferencing and telepresence markets are evolving to include each of the basic elements of modern IP PBX platforms – call control, bridging, messaging, auto attendant, ACD, SBC, call recording and process integration. In my mind, bringing an open source-based platform to the video recording market is likely a worthy endeavor. In this particular video application TANDBERG and PolyCom have offerings, as does VBrick. It is a little more complicated than simply plugging it in, since the scale of storage would need to be easily in the terabyte range for just about any organization, and the administration of content would need some integration with a content management system. You would need the server to enable QuickTime or Media Player session packaging and streaming.
Clearly, the open source call recording space is a small, but dynamic domain as evidenced by the extensive features available to Orecx systems integrators and their customers at attractive price points ($199/extension, less if ordering more than 5).
This post has already been read 0 times!
Edit