Perspectives on Face-to-Face Meetings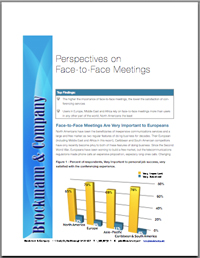 For the first 47,500 years since humans began to use verbal communications, we have relied on only good ol' face-to-face meetings to conduct business. In the past 100 or so years, since the advent of modern telecommunications, that range of real-time collaboration services has grown to substitute and complement face-to-face meetings.
This report reviews the importance-satisfaction gap for each of the four major regions of the world and focuses on the frequency and length of face-to-face meetings. We learn that Europeans depend significantly more on face-to-face meetings than North Americans.
It also sets up more discussion around where the growth in communications services will come from. Collaboration is a zero-sum game – there are only so many meetings and conferences that you need to participate in to achieve your business goals. Some may be video conferences, others web conferences and still other face-to-face meetings, but if there's to be growth it can only come from each other, or from a general growth in the total size of the business.
This post has already been read 0 times!
Edit